As our Download Festival Preview coverage rolls on, we talk to James Coogan from Dublin rockers Wounds.
Following the release of 'Die Young' last year, Wounds have recently played shows with Enter Shikari and Billy Talent showcasing their brand of chaotic and dirty punk rock. 
The bands set on the Red Bull Stage is set to be intense, frantic and filled with adrenaline. Definitely not one to be missed.
Guitarist James Coogan told us what we can expect from their set.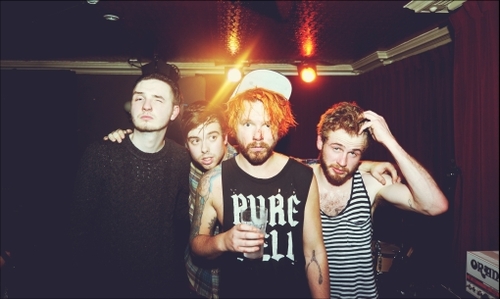 Already Heard: Can you tell us your name and role in the band?
James: I'm James and I'm the lanky, skinny, scarred and half-blind guitarist for Wounds!
AH: Why should fans check you out at Download?
James: We play every show like it's our last and want people to come hang out, get fucked up, party and lose their minds to our set.
AH: What can we expect from your set?
James: The chance to see myself and my best friends doing what we love. It's an unbelievable opportunity for us to show Donnington what this band is made of and what we stand for – chaos, fun, taking every chance to live every day like it's your last.
AH: What other bands are you looking forward to seeing?
James: So many of our favourite bands are playing but for me, I cannot fucking WAIT to see Queens of the Stone Age, Slipknot, The Gaslight Anthem and Rammstein. I'm too excited for the whole festival because I'm getting to see so many of the bands I grew up listening to, so I'm absolutely living for it!
AH: What are your memories of previous Download Festivals?
James: Download 2013 will be the first festival I've ever been to. Kinda odd that I play in a rock and roll band yet have never been to a fest in my entire life, but fuck it. We get the chance to go insane with my boys and to see a lot of my favourite bands live so I can't complain!
AH: Do you have anything else you'd like to say?
James: We just want to absolutely kill it with our set, hang out with our friends, bands, people who are into our music, and with everyone we can find. It's going to be a fucking amazing weekend so all I want is the hang outs I mentioned, sunshine and to hopefully not leave the site too covered in mud!
Catch Wounds at 16:25pm on the Red Bull Studio Stage on Saturday 15th June.
'Die Young' by Wounds is available now on In At The Deep End Records.
Wounds links: Facebook|Website|Twitter
Our full coverage of Download Festival 2013 can be found here.
Words by Sean Reid.