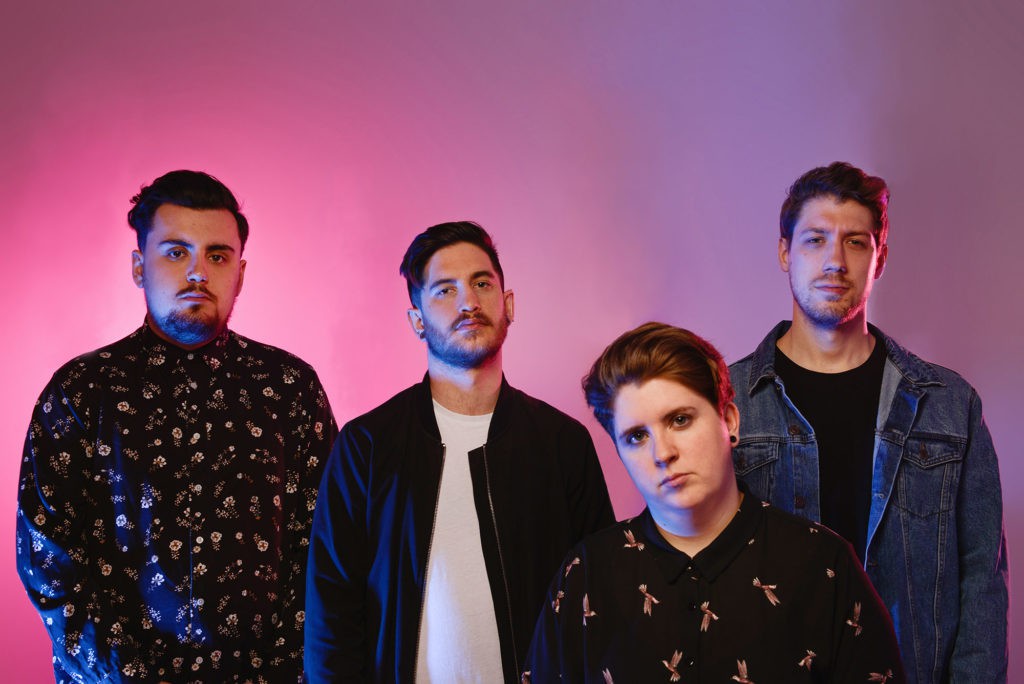 Since their formation in 2013, All Ears Avow, the college friends turned bandmates, have produced three EP's; showcasing their evolution of honing in on their own unique, crisp sound. There is a real furore surrounding AEA at the moment, where the band have been repeatedly coined as ones to watch in 2019. As they finish off a storming year, including hitting the milestones of gaining over 30K plays on Spotify and recognition as one of HMV's "Next Big Thing", their new EP 'Skin & Bones' is five tracks of alt-rock dynamite.
The Swindon outfit have been plugging away for years, having toured extensively whilst supporting the likes of Milk Teeth and Mallory Knox. With these runs having seen the band grace larger stages, singer Claire Sutton states how the creation of 'Skin and Bones' as a significant milestone in the bands career, "We were really hands-on with the whole project even making the artwork ourselves which involved two semi-naked people and lots of powder paint. We've just been having a wicked time just making all kinds of art with our mates."
Musically, the four-piece have naturally progressed into pop territory. This growth sees the quite frankly addictive additions of the stomper 'Got Lucky', matched with the unstoppable towering melodies in 'Fake'. With this polished production bridging their sound into alt-rock accessibility, Claire explains how 'Skin & Bones' encapsulates the band's shared tastes in comparison to previous works, "I think it's a truer reflection of our collective music taste, so in that way, it's more honest. We were always trying to confine ourselves to being a straight-up rock band but actually, we were all listening to a lot of other stuff."
'Skin & Bones' has a heightened sense of identity, where AEA have graduated from producing sounds of what is expected in the genre to championing their own style. With five years under their belt, Claire reflects on one of the biggest challenges she has faced when creating their work, "Probably realising that we don't have to keep fulfilling this rock genre checklist when making music. The second we let that go of that, we've all been much more satisfied in the music we're coming out with."
With this overriding message of optimism, the brimming narrative of personal growth is one that resonates. "I just think that the second we stop pushing ourselves to be better or do better, we leave ourselves open to falling into a mindset that's negative which is obviously a huge problem for every person on this planet," says Sutton "It's an easy hole to get into and a very difficult one to get out of."
This idea of flipping negativity on its head and using that energy to change your overall outlook on life is something that Claire is impassioned by. "I don't believe we have to put up with things like that and if we want it to change, we're the only ones that are responsible for it.
"I lost my mum almost 10 years ago to cancer, she was 47 and had just been through a divorce from a marriage she wasn't happy in. I learnt from it that life is too short to just accept things the way they are. We don't have to be in that career, we don't have to be with that person, we don't have to be depressed or anxious. We have the power and I want more people to know that."
It appears that All Ears Avow have found their formula to creating catchy material that evokes elation. From slick production to innovative inspiration, this four-piece are certain to be staples in your playlists to come.
'Skin & Bones' EP by All Ears Avow is out now.
All Ears Avow links: Facebook | Twitter | Instagram
Words by Ffion Riordan-Jones (@FfionAbigail_)