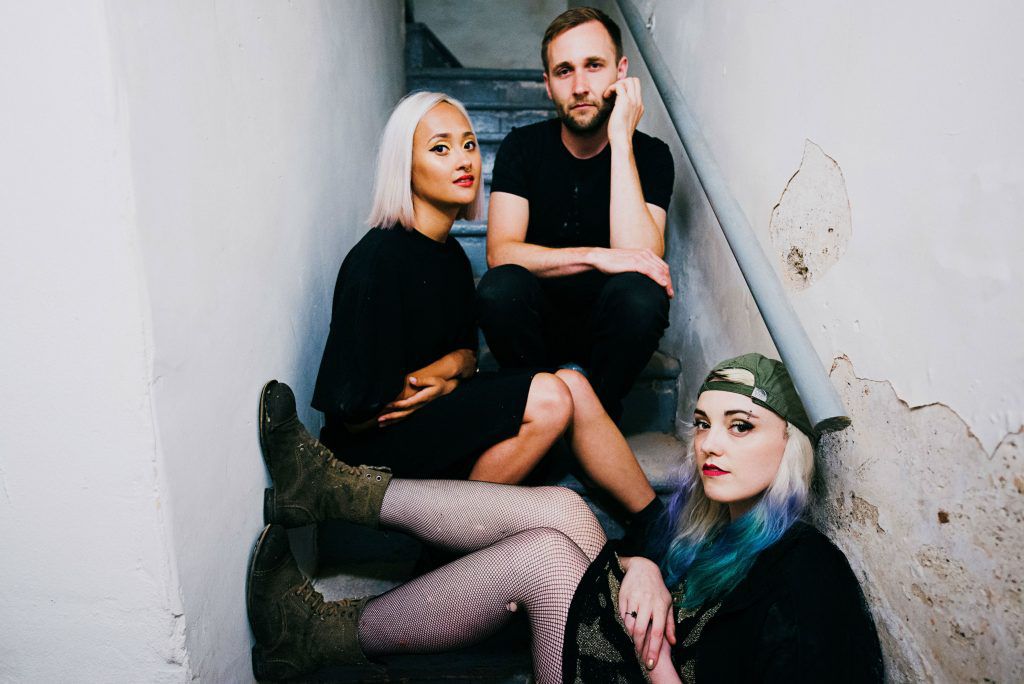 "I want people to understand that whether it's a war, an abusive relationship, a mental illness or a society-instilled stereotype, they have the power not only to stop fuelling the cause but to actively fight against it." 
It has been a busy year for Bristol's Soeur. Consisting of Jim Collins on drums, with Tina Maynard and Anya Pulver on both guitar and vocals, the trio have been wildly growing with fierce momentum as they come armed with thrashing noise. They are currently topping off their year with a fifteen date tour and the release of their second EP, 'Fight'.

"Being on the road is a breeze physically. I busk three hours a day outside anyway, so a half an hour, adrenaline-fuelled show, indoors, every night is my idea of heaven," Tina states. Having played festivals such as ArcTanGent, 2000 Trees and Reading & Leeds this summer, the dual-fronted outfit have been constructing a reputation for their enthralling live sets. With their live presence being hailed as must-see events, highlights from the year don't stop there as Jim reminisces, "Touring with Demob Happy was loads of fun, shooting the music video for 'Fight' was something I'm sure we'll never forget, one of the hottest days of the year in probably the hottest basement in Bristol… things got sweaty!"
After a staggeringly successful 12 months, their second EP 'Fight' comes with mass anticipation. The influence behind its title track sees Soeur challenge of ideas bestowed on individuals. Starting from bumping into a school friend, Tina explained how the initial meeting began the thought process, "He told me about his experience in the army and how this idea of protecting his country soon lost its charm as he ended up despising what he was doing and what it meant. It really stuck with me and this was initially what I started writing the song about, but we wanted it to transcend the particular situation, hence why I think lots of people can relate to it as isn't tied down to that".
[youtube https://www.youtube.com/watch?v=2NvZWhDKH3Y]
Adding to their vivid imagery of combating wilting ideals, Anya details, "'Fight' is about standing up against what we once blindly followed, it is about making your mind up and effecting real change. I want people to understand that whether it's a war, an abusive relationship, a mental illness or a society-instilled stereotype, they have the power not only to stop fuelling the cause but to actively fight against it."
With the EP is set to be released imminently, the trio will celebrate at a sold-out hometown show in Bristol. As the year has seen the outfit be championed across wider stages and across the airwaves, 'Fight' is a work of impassioned delivery with lasting meaning, "I think wherever there's personal growth, there's always some sort of fight involved," states Anya. "People often project the best of themselves (especially on social media), giving us all the illusion that nobody else is struggling, when in reality, we all endure our own battles every day."
Soeur's sound ranges from grunge laden material to mathy pieces, where Anya and Tina's robust yet eloquent dual-fronted vocals make for a unique listen that remains structurally innovative,  "We love to play with intricately intertwined vocals, switching up harmonies and creating rhythms that both syncopate and synchronise in a matter of seconds," Anya explains before fellow vocalist Tina states, "I've always loved singing with other people and think harmonies add so much to songs, it's nice that we can do it live. Usually one of us will come to practice with a song, leaving space for the other to have a verse. And it's pretty much anything goes outside of that."
"Leave your egos outside, and you'll get so much further"
Since their 2017 debut EP 'What Separates Us', Soeur's evolution is the result of tireless commitment and learning, "It takes time to settle into a writing style, to get used to how each other work and to find ways to keep the music fresh and interesting without losing that thing that makes us us. I think we've become less afraid of breaching the boundaries, we'll take any idea and run with it now, even if it doesn't seem very 'Sœur' to begin with."
As Soeur strive to make people reflect, it's abundantly clear that the three's DIY ethos is at the heart of everything they do. Now having deservingly broken into the 'up-and-coming' scene, Soeur's passion for the industry is proven with their commitment to not only the band, but the local community. "I think we've all realized that being in a band isn't just about playing our instruments and writing songs. We've become promoters, tour managers, booking agents, van drivers and so on," says Jim. Having been a unit for a few years, the self-releasing outfit are no newcomers to the dedication it takes to get a band moving, "Leave your egos outside, and you'll get so much further, quicker if you're willing to do the mundane stuff as well," concludes Tina.
Not only are Soeur ready to welcome 'Fight', but it is also unarguably clear that this trio are prepared to take on 2019 with huge spirit.
'Fight' EP by Sœur is released 17th November.
Sœur links: Website | Facebook | Twitter | Instagram
Words by Ffion Riordan-Jones (@FfionAbigail_)