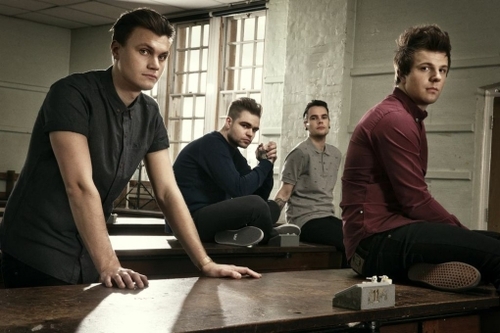 In recent years Crewe-founded quartet Blitz Kids have built a dedicated following with tours alongside the likes of Mayday Parade, D.R.U.G.S. and most recently Lower Than Atlantis. Add to that a handful of EP's, a full-length, and their recent 'Never Die' mini-album, then you'll understand why Blitz Kids have been on the cusp of breaking through the UK's rock elite for quite some time now.
Now part of Red Bull Records, the group is made up of vocalist Joe James, guitarist Jono Yates, bassist Nic Montgomery with Matt Freer on drums. Their new single ('On My Own') and forthcoming second album shows a band more focused and accessible with a vibrant and driven sound that matches the bands ambition and potential.
We recently caught up with Jono to find out about the new material, joining Red Bull Records, their festival plans for the summer and more.
AH: You're on tour with Lower Than Atlantis this month, are you using this gateway to new fans by concentrating on the new album or going with more 'fan favourite' old material?
Jono: We're only playing songs from our mini-album and our new album. The material is better suited to bigger venues, and we've been playing the same set for about 2 years. It's refreshing to be able to mix it up now!
AH: You have recently signed to Red Bull Records, firstly congratulations, and secondly, how do you think this will help you move forward in camp Blitz Kids?
Jono: Thanks! It's given us a huge platform to show people what we're about. We've always had a lot of ambition and now we have the resources to do exactly what we want. The freedom they give us is amazing. They understand the vision we have for the band, and back it 100% which is amazing.
AH: What was the reasoning behind joining Red Bull Records?
Jono: We'd heard nightmare stories from friends in bands about major labels taking over and dictating every little thing they did. We had interest from a few, but we really didn't want that to happen to us. Red Bull were always top of our list. We've worked closely with the company for years, and for them to put the faith in us and put pen to paper is great.
AH: Your new single 'On My Own' comes out on the 13th May, can you tell us a bit more about it?
Jono: It's the first song we've released from our second album. It's a great feeling being able to show people what we've been up to in the studio finally!
AH: With a second album on the way, are you going to use the second half of the year to tour extensively or have you already got new ideas brewing for album number 3?
Jono: We're going to tour relentlessly this year. No doubt about it. I don't think we'll have much time to do anything else to be honest. We're always writing and coming up with ideas wherever we are though. Keeping the creative juices flowing on the road is pretty essential to make sure we don't forget how to write songs!
AH: What can we expect on the new album, is it a natural progression from 'Never Die' or are there some surprises in there?
Jono: I'd say it was a natural progression with some added spice that keeps you on your toes. There's a lot more electronic stuff and different instruments. That was always the intention from the start. We never wanted to limit ourselves to being just a guitar band. There's only so many sounds you can get out of a guitar!
AH: Recently you guys were at Radstock Festival, how was it and are you looking forward to your spots at Slam Dunk and Download in the coming months?
Jono: Radstock was great. The organisation was spot on, and for a virgin festival, that's pretty uncommon. Download is going to be the highlight of our year. I literally cannot wait. The stage is bloody massive, so it's a bit daunting. But eventually we want to be playing these stages all over the world, so we'd best get used to it!
AH: What are your opinions on the amount of festivals popping up over the UK in recent years? Do you think it shows people still want to see bands despite the economy issues or do you think there can be too much of a good thing?
Jono: I think it's great. There are huge acts at all the major festivals, and sometimes fans of the smaller bands get priced out with ticket prices rising every year. These smaller festivals give fans of bands without as much of a name for themselves the opportunity to see their favourite acts in a festival environment, for a fraction of the price.
AH: Finally, what are your thoughts on the "underground" rock scene at the moment, is it in a good position?
Jono: It's exceptional. The amount of bands from our scene getting mainstream success and played on daytime Radio 1 just shows how healthy the scene is. Long may it continue!
'On My Own' by Blitz Kids is released on 13th May on Red Bull Records.
A free download of 'Warrior' (live) and 'Nowhere Fast' (unreleased demo) can be found on the bands Facebook page.
Blitz Kids links: Official Website|Facebook|Twitter
Words by Sean Reid.