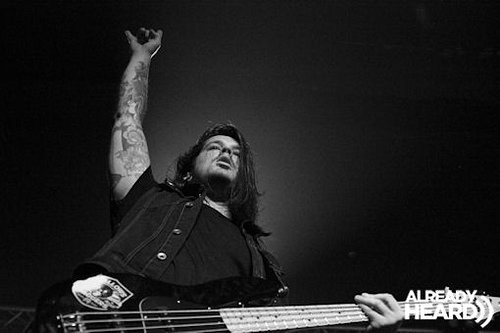 There are high hopes for Bury Tomorrow in 2013. The band are one of the leading metalcore bands flying the flag for Britain, and with the amount of tours, festivals and other big plans the band have up their sleeves, it'll be an even bigger year than it was last year.
Meeting up with Davyd Bates (bass) and Adam Jackson (drums) showed me this, before their sold out Manchester show on the Rock Sound Impericon tour with Landscapes, Stray From The Path and The Ghost Inside. It was the second show to sell out on the tour and they seem so pumped to get on stage. "Excellent" is the short answer about how the tour is so far. Of course, it is. Who wouldn't be having an excellent time on a lineup like this? Adam elaborated further "All the bands have been rad, all the shows have been busy and sold out, all of them have been pretty much sold out. The shows have been great and it's just been a good time. We couldn't ask for more".
Being a metalcore band I assumed that the lads were fans of tonight's headliners The Ghost Inside. It was a worthy assumption and Davyd is full of praise for the band when I asked him if The Ghost Inside would be cited as influences in their music "Their first album we all were big fans of; we thought it was a great album and as they progressed we kind of followed their music. I think it's safe to say we were definitely fans before we came on this tour. When you like a band or listen to them you will inadvertently be influenced by them" Davyd spoke sense. The Ghost Inside are big over here and in America, with plenty of "copycats" within the scene trying, but not achieving the same levels as The Ghost Inside.
But what about Bury Tomorrow? They have a strong following over here in the UK and a certain US magazine wasn't too keen on their 2012 album 'The Union Of Crowns' despite the majority rating the album highly. "Nothing establishes Bury Tomorrow as a band with anything unique or surprising to offer" was the quote from the review that I read to the band. By Davyd's reaction of "let's do it!" It was clear they'd heard this before, but I wasn't quite prepared for where this would take us. I asked what they thought 'The Union Of Crowns' had to offer, specifically as a successor to their debut 'Portraits'; Davyd went back to the quote.
He wasn't happy with the review, at all. He said it was filled with inaccuracies and that they hadn't done their research. Clearly, the review had gotten to him, but I totally understood; Davyd and Adam started to show so much passion towards their band and their scene. "We're not claiming to be original. We're not claiming to be the first stop on any persons list for a metal band. What we love is metalcore. We've always loved metalcore. We'll love it next year and we loved it last year. And the point is, is that we wanted to take a genre that hasn't been done well by a British band, ever, and we wanted to show that we could do it." It was here that that I realised how passionate these guys were and where Davyd really hit his stride. "This year you've got While She Sleeps, us, Bleed From Within, all showing that British bands are better at metalcore than Americans and that's what we wanted to show. That's what I think and that's what we think and on the next album we'll be doing even more and we'll be even more metalcore".
The comparison with America made me think of how many metalcore bands there are on the other side of the Atlantic. Labels such as Rise Records have primarily (until the past few years) focussed on post hardcore and metalcore bands with only a few of their roster really standing out from the crowd. Adam explains; "America has so many sick bands in this scene, The Ghost Inside being one of them. But it's also full of bands which are like, way more worthy of the whole unoriginal thing than we are and would've been reviewed completely differently to us. It's something we really don't like as a band when it comes to press, when they're hypocrites about stuff. If you read reviews of a certain band and they get strong reviews and then read reviews of a band who are along the same lines, and they've reviewed them as being absolutely terrible, there's a massive inconsistency there and I think it was just a disrespectful review for someone who wasn't really into our sort of music anyway. It's always a big frustration when they give a CD to a person who wouldn't actually think that music's good even if it was really good. It's just, whatever. We don't really care. It makes no difference to what we're doing and most kids don't even listen to what magazines have to say. They'll make up their own minds."
At the end of the day the band are right. It doesn't matter what we say about their latest CD or tour. It's down to the fan to make their own mind up. Everyone has their own opinions about what's good and what isn't and clearly Bury Tomorrow have enough fans who think their music is good. Enough fans to warrant them worthy stage times at festivals such as Redstock, Radstock, Slam Dunk Ireland and Download. Is this the year then that's going to launch Bury Tomorrow to new heights? "We hope so" says Davyd. "We've got a lot of big plans coming and a lot huge exciting things that we're yet to announce. We're hoping that this is… I think last year was the year that launched us, personally". Adam took a hold of the answers "Just the release of the record really. We played some rad shows and festivals last year, bigger than we have done before but it was all about getting the new album out and it was the fact that actually, the way it was received that allowed us to be on a different level. It allowed us to do the things we're doing now and further on this year, it's thanks to that album, so I think that's definitely what launched us. We're doing so much more this year than we did last year like some really big stuff coming."
Clearly 'The Union Of Crowns' has helped the band to reach new levels of success and it sounds like there's plenty more to come. But the band are always aiming higher and quite simply want to be the best. With the rate they're going I don't think it would be a surprise to anyone, especially not the band. They know what they want to achieve and they'll work their hardest to make that possible.
"Headlining Main Stage Reading and Leeds" replied Davyd incredibly quickly. I asked where they could see themselves in 5 years time and Davyd didn't hesitate at all and was being deadly serious. There's a passion deep down in these two. "We'll be headlining. Headlining Download. Headlining Sonisphere. Headlining major festivals in 5 years time. That's where we wanna be. In 5 years time we wanna be those high up, main stage bands. Like top, or just under top. That's where we wanna be and if we're not there we haven't tried hard enough".
Davyd had already mentioned about the strength of British metalcore taking over in 2012 and before I even finished asking my question about how metalcore will be in 2013 he was quick to say "2013 will be the year of metal and rock". Is he right? "Major radio stations are backing big metal and rock acts. It's the year that is embracing live music again and I think we're about to see a wave of new music again. I just think that for the next 5 years we're gonna have that serious growth in live music, bands are gonna get bigger and it's going to be like it was before". 
We chatted further about the times we had heard bands like Bring Me The Horizon and While She Sleeps being played in the daytime on Radio 1. It's certainly surprising and even more so when you think how many people just heard 'Sempiternal' on Radio 1 on a Saturday morning. Is this the wake up call that the world needs for alternative music? "Let's face it ok; Bring Me The Horizon are massive" clarifies Davyd. We all instantly agree. Who can deny that the Sheffield quintet are massive right now, even before their latest 4th album is released "There's a certain amount to be said that if you're a popular radio station, like a pop culture, and you're basically playing everything that's new and fresh, you're gonna be playing BMTH. But the fact that bands like While She Sleeps and bands like Mallory Knox and Hildamay and stuff are getting the recognition they really deserve, and even us getting played on Zane Lowe, like, holy shit! It's the year of metal and rock".
Is this the time that we're going to see a shift in alternative music becoming more of a mainstream thing? Davyd was right. There's been so much backing and airplay with alternative bands that I'd thought it for a while. Who could deny it when We Are The Ocean are on Radio 1's A list in January? Davyd agrees that it will be. "I honestly believe that it will. Yeah.100%." Adam is no different, saying "I think you can tell that from the really big festivals, like the more mainstream and the more alternative and metal bands they're taking on for the main stages."
It makes sense that Bury Tomorrow have high hopes then. This shift in alternative music finally breaking into the mainstream will see it gaining the recognition it deserves. Bury Tomorrow have all the fire and passion to work hard and give it their 100%. Davyd and Adam showed me this and it really wouldn't be a surprise to see them high up on the main stage in any major festival in 5 years time. Let's see what tomorrow will bring.
'The Union of Crowns' by Bury Tomorrow is available now on Nuclear Blast.
Bury Tomorrow links: Official Website|Facebook|Twitter
Words by Mikey Brown (@MikeyMiracle)