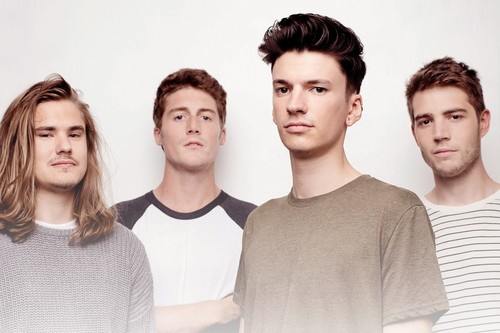 Earlier this month Surrey quartet Canterbury released their third full-length record, 'Dark Days', a collection of anthemic and atmospheric pop-rock songs which builds upon the bands previous efforts with fantastic results.
Funded by the PledgeMusic service and working Hassle Records, 'Dark Days' has allowed Canterbury to retain their DIY ethics whilst simutanously enhances their cohesive musical style by working with both PledgeMusic and Hassle Records.
Shortly after the release of 'Dark Days', Already Heard spoke to Mike Sparks from Canterbury to find out more about the record, their thoughts on crowdsourcing services, joining Hassle and more.
Already Heard: Can you introduce yourselves and your role in Canterbury?

Mike: I'm Mike, I play guitar and sing…mostly the high parts. Luke plays bass and sings….mostly the low notes. James plays guitar…mostly the electric and occasionally sings the REALLY low notes, and Chris he plays the drums…mostly with sticks.
AH: How are things in the Canterbury camp right now?
Mike: Really great actually, 'Dark Days' came out last week and the reaction has been insane!
AH: 'Dark Days' has been in the works since last April when you launched a PledgeMusic campaign. What was the decision behind taking this route?


Mike: Well we have always been a fairly DIY band, so when Hassle Records came along and got involved, we didn't want to surrender everything to label, and they were great at working with us and moulding a new structure around us. With PledgeMusic, we essentially had a year long pre-order for our record, and the fans were able to get involved in a record from its very first stages. It was a great route to go down for us as a band.
AH: Crowdsourcing services like PledgeMusic and Kickstarter has both been embraced and critcised by music fans. Do you feel some bands misuse its purpose?

Mike: I feel there's a few ways to do it. We never saw it as more than a really extended ore-order and a way for people to really be involved, so we never wanted anything on there that you couldn't 'Pledge' for that wasn't something to do with us making music. I think some people can get a bit carried away with what they offer, but I think the bands who do it properly outshine.
AH: This album also sees you teaming up with Hassle Records. With the album being funded through PledgeMusic, how does the deal between yourselves and Hassle work?


Mike: I kind of touched on this before, but its basically the two companies working side by side. Hassle are very much an indie rock label and in this day and age that format is becoming so rare, and difficult to sustain as music really isn't making any money. This way we were able to eliminate any risk for them and have them focused on getting the album out there to places we otherwise wouldn't have been able to.
AH: What drew you towards working with Hassle?


Mike: They are one of the few remaining truly independent British rock labels out there.
AH: 'Dark Days' is your third album. How has the bands sound grown on this record?


Mike: I feel like its grown naturally with us as individuals. We take our song writing very seriously and we wanted to show on this album where we were as people.
AH: From hearing the album, it seems you've taken a more edgier yet "hooky" approach on this record?


Mike: The recording process was very different on this record to our previous two albums. Whereas before we have had literally years to write an album, on 'Dark Days' the writing process properly began about 6 months before we recorded it, so its a real snapshot of our lives caught on record. We went into the studio wanting to reflect this sonically, on our second album 'Heavy in the Day' we used a different musical set up for almost every song, as they all had different moments in time connected to them, this time, we tried for a more cohesive raw-er sound than before. In turn this made us work harder as songwriters to get each song to be able to be a great standalone song in its own right, as we try never to write the same song twice, something which other bands…seemingly do not. It was a really fun album to produce.
AH: You've already previewed two tracks from the record ('Satellite' and 'Think It Over'). How has the feedback been from those songs and how do they showcase the overall tone of the album?


Mike: They have been great, 'Satellite' was the first track we previewed. We basically wanted to come back with a song that smacked people in the face…musically, and get their attention again. 'Think It Over' represents a different more dancier side to the record.
AH: The album is also the first with new drummer Chris Velissarides. How has Chris settled into the band and what does he add to Canterbury's sound?


Mike: Chris is a great drummer, which is why we contacted him first out of anyone when we needed help. He fit straight in and is a real treat to work with. He smashed out all of his parts in the recording process and really helped bring everyone up in the latter stages of the writing process too!
AH: Ultimately what impression do you hope people take away from hearing 'Dark Days'?

Mike: I think, because of the title, alot of people go into the record in quite a 'Dark' place…and I guess that is fairly respective of the place we were at whilst writing the album, but I hope by the end people see a light at the end of the tunnel and a way out. Overall I think thats what we want. It's a real start-to-finish album.
AH: Can we expect to see the band taking the album out on the road soon?


Mike: Hells yes. We have a UK tour booked for April this year where we will be hitting up all the major cities, also we are playing an ever increasing number of festivals throughout the year!
AH: Do you have any final words to share to close the interview?


Mike: Just thanks to anyone who has supported the record throughout its production or anyone who has bought it or shown it to a friend since. This band 100% survives through its fans, so thank you.
'Dark Days' by Canterbury is out now on Hassle Records.
Canterbury links: Website|Facebook|Twitter
Words by Sean Reid (@SeanReid86)