By the time you're reading this, the early summer festivals will have been and gone. Nevertheless, the British festival season is packed with options, yet in recent years there has been one gathering that has become a personal favourite of ours here at Already Heard. And that is the 2000trees Festival.
Taking place at Upcote Farm, near Cheltenham, 2000trees has become of the UK's most reliable festivals. When it comes to highlighting the best and brightest names in underground and alternative music, 2000trees has a strong history of doing just that. 2019 is no exception as an all mighty arsenal of names are set to play across the three days in July.
Amongst them are headliners Frank Turner & The Sleeping Souls, You Me At Six and Deaf Havana. Joining them will be a host of exciting bands; While She Sleeps, Every Time I Die, Turnstile, Jamie Lenman (including 'Lenmania II'), Cancer Bats, Angel Du$t, As It Is and many more.
Today, we're proud to announce the latest addition to this year's 2000trees Festival lineup – meet Raketkanon. The news is part of #7DaysOfTrees, which sees 7 new names being highlighted across 7 websites/blogs. The Belgian group follows yesterdays announcement that saw The Wildhearts join the bill.
As for Raketkanon, their appearance at 2000trees comes off the back of the release of their third album. Coincidentally titled 'RKTKN#3′, it marks the Ghent quintet's first album in four years and is perhaps their most experimental record to date. With the addition of synth layers, their usual blend of jagged screams, fuzzy guitars, incoherent vocals (their own dialect) and angular rhythms provide a distinctive brand of art-rock. Although they're unique, Raketkanon are certainly compelling and are sure to grabs people's attention at 2000trees.
As they prepare to make their debut at the festival, we spoke to guitarist (and artwork and stage designer) Jef Verbeeck from Raketkanon to find out what they have in store, who they're looking forward to watching and more.
AH: You're the latest name to be announced for the 2000Trees Festival. What can festival-goers expect from your set?
Intensity: we always play like it's the last day of our lives and there will be no tomorrow. We are also making a new stage object with over 2000 led-lights. It took over 2 weeks to make it and it looks absolutely insane.
AH: In recent years, fellow Belgians Brutus have appeared at the festival. What have you been told about 2000Trees?
Nothing yet, but we're on tour with them in Europe in a few weeks, so we will ask them!
AH: The line-up is stacked with loads of bands playing across the weekend. Who are you excited to see while you're over here for the festival?
Haggard Cat! Tom and Matt are the best! To be honest, I only know a few bands on the lineup, so I guess it will be a great opportunity to discover a lot of amazing new music. Before and after our set, we will be hanging around at the festival and we will check out as much new music as possible.
AH: Your appearance follows the release of your new album, 'RKTKN3'. How have you found the reaction to the album?
It's been very positive. Most people tell us it's their favourite Raketkanon album so far. We had lots of nice press and reviews, too.
AH: The album is your first since your short hiatus. How important was that break and did it help push your creativity?
It was absolutely necessary to take a break: Raketkanon is a very intense band, not only musically, but also personally. Pieter-Paul, our singer, recorded another album with his other band, Kapitan Korsakov, and that took some time. In the meantime, we wanted to reinvent ourselves and took our time to let ideas mature. We also threw away a lot of ideas since we did not want to repeat ourselves.
If people haven't listened to 'RKTKN3' yet, how would you sum up the record?
The new record and the songs themselves are way more eclectic. In a way, we had pushed our abilities—and we had learned what we could do musically—to the max; we tried to feel what the limits of that way of working are. We pretty much renewed ourselves. We don't want to be just a metal band or a hard rock band. We just want to make music that we think is beautiful and sincere. I think we managed to realise that on this project.
There's nothing more horrific than taking something from the same field of art you operate in, copying it outright, and calling it inspiration. It's worth more to take a risk, let go of everything you know, and explore. I'm not saying we reinvented the wheel or anything, but from our perspective, I think we can say we have grown artistically.
AH: Finally, why should people come to 2000trees this summer?
A festival with trees is always awesome, and you claim to have 2000 of them! Also, the lineup is killer.
'RKTKN#3' by Raketkanon is out now on Alcopop! Records.
Raketkanon links: Website | Facebook | Twitter | Instagram
---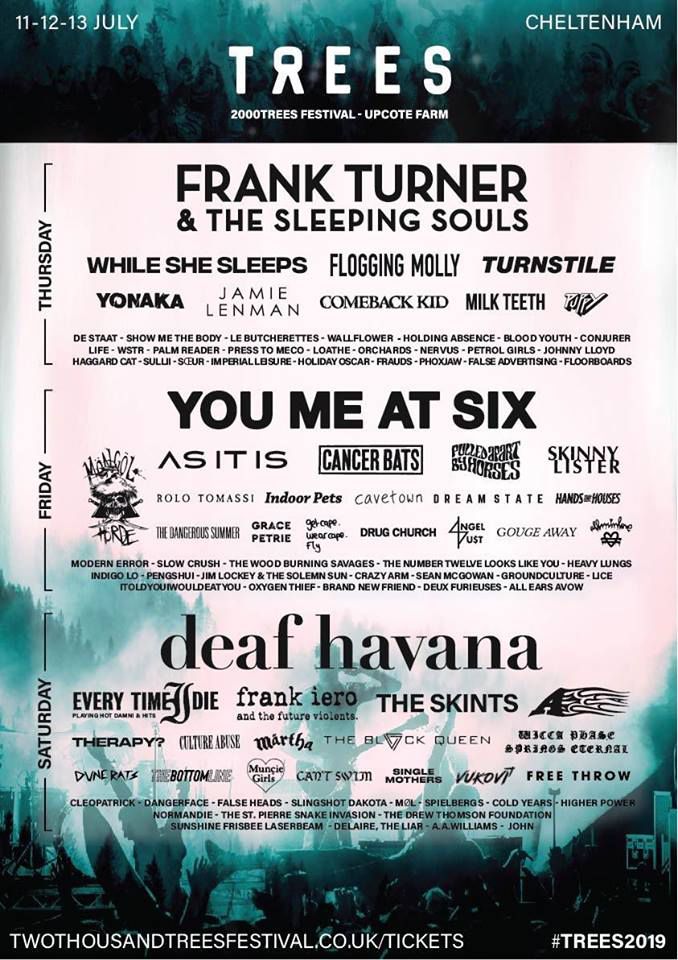 2000trees Festival 2019 takes place at Cotswold Hills, Upcote Farm, near Cheltenham from Thursday, 11th July to Saturday, 13th July.
2000trees Festival links: Website | Facebook | Twitter | Instagram
Tickets are available here.