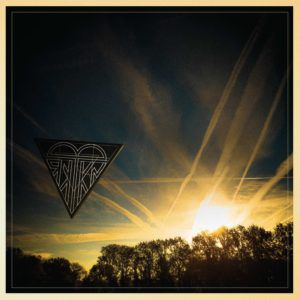 From the beginning, 'RKTKN#3' pulls the listener into a nightmarish world, twisting and tumbling with chaotic riffs mixed with chilling tones. Though this experience sounds unpleasant, it is quite the opposite. The album is an experience much like that of a dream; clear yet distorted. Raketkanon use sounds and their 'own language' in the place of lyrics, forcing the listener to re-evaluate how they listen to music.
RKTKN#3 starts with 'Ricky', a shining example of Raketkanon's sound, playing with odd time signatures and synths, giving it a retro feel. 'Ricky' sets the bar for the following tracks, painting a trance-like picture. Some songs on RKTKN#3, such as 'Fons', really put the listener on edge, with whining vocals in the intro that are really grating on the ear, although this is completely juxtaposed by a relaxing middle section to relieve the tension.
Interestingly, there are a few tracks on 'RKTKN#3′ that sound almost like 90s ballads; 'Mélody' and 'Robin' using acoustic guitars and atmospheric synths to create a relaxing sound. Even though the tracks seem soothing on the surface, there is still a dissonant and slightly menacing undertone that makes them intriguing.
'Hannibal', on the other hand, is pure energy mixed with stillness as it plays with dynamics, nestling quietness next to a cacophony of sound to startling effect. Raketkanon don't shy away from showing their versatility on 'RKTKN#3′, with elements of Electronic music sprinkled amongst the heavy guitar riffs. 'Harry', for instance, features robotic sounding vocals against distorted guitars and synths.
With the use of sounds in the place of lyrics, Raketkanon force the listener to fill in the gaps as they aim to inspire audiences to listen to music from the perspective of a child, or of one with no past musical experience. By that logic, it is a very interesting way to make music, although it could be seen as pretentious and gimmicky by some.
3/5
'RKTKN#3' by Raketkanon is released on 5th April on Alcopop! Records.
Raketkanon links: Website | Facebook | Twitter | Instagram
Words by Evelyn Manktelow