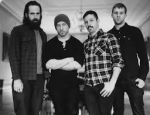 Despite the venue change from the originally advertised Academy 2, Club Academy provides the opportunity for a more intimate and destructive setting. Leicester instrumentalists Maybeshewill open up the show with such grace and fury. Imaginations as to what the songs mean are up to the beholder as they well one up in all manner of emotions. The roaring guitars on 'Seraphim & Cherubim' sound deliciously temperamental, whilst 'To the Skies from a Hillside' whirls in melody and harmonic keys. A new song from the band crops up, which shows off their evolution into more grandiose territories. There are nagging points when the recorded voices kind of weigh on the songs a little, plus the audience seem patient but borderline restless. Regardless, it's a solid set from a band that still has big things to come. (3.5/5)
Follow up act Three Trapped Tigers bring all the craziness in their wild brand of instrumentals. Combining noisy synths and squealing math rock riffs, the band are a sight to behold. This all embedded by a grounded bed of unusual tech-percussion and drums, which only adds to the intrigue of the band. It's a captivating watch and one becomes high on colour and noise. The London trio are a satisfyingly recommended overdose for the ears. (4/5)
Flashing images of horror/sci-fi signal the beginning of chaos amongst an eager fury loving crowd. The Dillinger Escape Plan kicks the door down with pummelling hardcore ferocity via 'Prancer'.
Their fans answer in a wolf cry to Greg Puciato's razor sharp screams which pierce through the walls making them crash down to reveal a riotous mosh pit in the centre. After a triple bazooka whammy with 'Farewell, Mona Lisa', 'Milk Lizard', and 'Panasonic Youth', both audience and band become reacquainted with one another in bruises and cuts. DEP wildly throw themselves across the stage and into the embrace of not just their fans, but the equipment as well; guitarist Ben Weiman is quite the acrobat whilst shredding riff after riff.
Besides the disarratic moments, the band dig deep into their catalogue for catchy sing along numbers that are just as adrenaline fuelled. 'Black Bubblegum' and 'One of Us Is the Killer' get the floor moving, the friction of feet rubbing away at the floor's hard surface. Songs like these which show off the tense quieter moments of the mathcore band keep one on their toes; 'Dead as History' is a perfect example of this.
After a couple of psychotic circle pits during 'Good Neighbor' and 'When I Lost My Bet', the band retires backstage for a breather. This of course doesn't last long. They kick the door back down, and whip up their erratic Aphex Twin cover of 'Come to Daddy'. The static soon enough devolves into the monstrous classic that is '43% Burnt'. One's brain simply implodes from the excitement, causing an unhealthy adrenaline and aneuryistic rush to pour forth. The sensation ends, and it's fucking marvellous. (4/5)
4/5
Words by Aaron Lohan (@ooran_loohan)