With plans in place for new album, 'Dopamine', set for release on February 9th 2024 through Easy Life Records, Normandie are sticking to their promise of releasing a song on the first of every month. Yesterday (October 1st) saw the Swedish trio share 'Hourglass'.
Normandie frontman Philip Strand describes 'Hourglass' as being about "death, and how if we come to terms with it and accept it, we can find new life in the pain. Everything that ever was has always ended, all flowers fade." 
Furthermore, the steadily paced track sees a guest spot from Bury Tomorrow's Dani Winter-Bates. While the track mainly takes on an alt.pop-rock vibe, Winter-Bates adds intensity to 'Hourglass'.
Pre-order/pre-save 'Dopamine' here.
When are Normandie coming back to the UK?
Normandie will follow up the release of 'Dopamine' with a brief visit to the UK in March 2024.
They will be playing shows in London and Manchester as part of a wider European tour.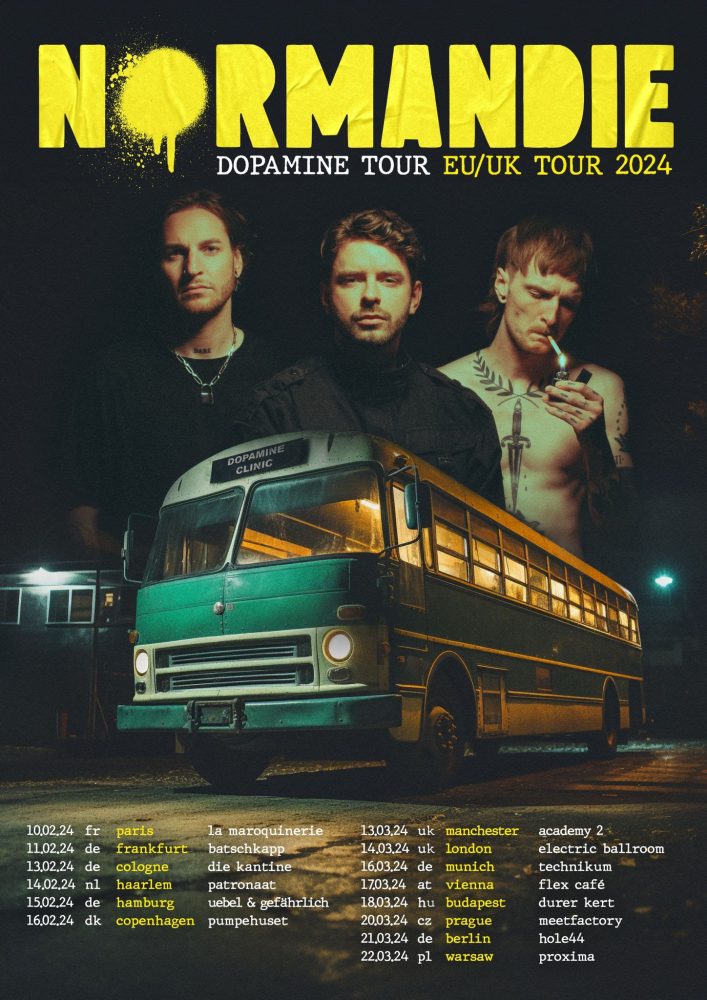 March
13th Academy 2, Manchester
14th Electric Ballroom, London
'Hourglass' by Normandie (ft. Dani Winter-Bates) Lyrics
I'm tired of the games and the playing pretend
I've been caught in stalemate, I don't stand a chance
Gotta see it all die to find the other side
Set fire to the rain 'til I drown in the flames
I can't start a clean slate, I know how it ends
Gotta see it all die to find the other side
I save my tears inside an hourglass
Cause time won't heal these wounds, I promise that
You stole my heart and never gave it back
I guess that nothing is made to last
I save my tears inside an hourglass
Cause time won't fix this broken promise land
You stole my heart and never gave it back
I guess that nothing is made to last
Forever is a lie
Comme des fleurs nous fanons
Yeah, there's beauty in demise
When it's breaking the bones
Gotta see it all die to find the other side
Am I holding on to nothing
What if pain grows into something new
Am I holding on to nothing
What if I'm ready to lose you too
I save my tears inside an hourglass
Cause time won't heal these wounds, I promise that
You stole my heart and never gave it back
I guess that nothing is made to last
I save my tears inside an hourglass
Cause time won't fix this broken promise land
You stole my heart and never gave it back
I guess that nothing is made to last
I save my tears inside an hourglass
Cause time won't heal these wounds, I promise that
You stole my heart and never gave it back
I guess that nothing is made to last
I save my tears inside an hourglass
Cause time won't fix this broken promise land
You stole my heart and never gave it back
I guess that nothing is made to last
Death comes fast for a life worth living
Everything grows when you learn to give in
Death comes fast for a life worth living
Everything grows when you learn to give in
Everything grows when you learn to give in
Everything grows when you learn to give it up
Everything grows when you learn to give in
I save my tears inside an hourglass
Cause time won't heal these wounds, I promise that
You stole my heart and never gave it back
I guess that nothing is made to last
I save my tears inside an hourglass
Cause time won't fix this broken promise land
You stole my heart and never gave it back
I guess that nothing is made to last