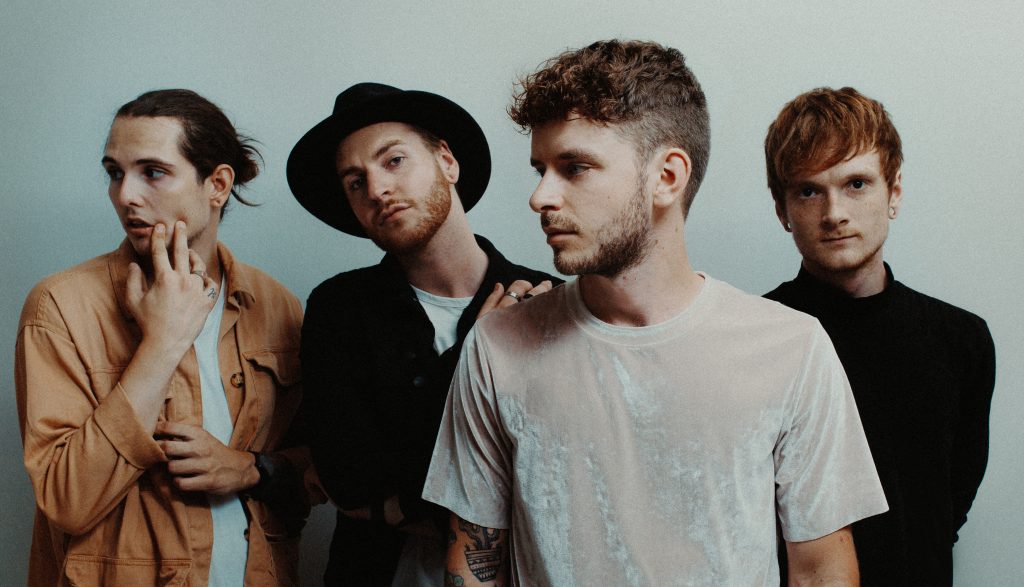 "It's okay to give up, to change paths and to not always have to 'push through it'."
Normandie's debut 'Inguz' was released in 2016, where it was apparent that the band had found the line that caressed both commerciality and authenticity. With the culmination of both solidifying the Swedes a fanbase, the album seemed to somewhat hinder the outfit garnering a sense of identity in a colossal alt-rock landscape. Now, with the release of 'White Flag', Normandie have the ammunition to shoot them forward.
Building on the anthemic rock of its predecessor, their sophomore full-length sees a more focused Normandie. It's the result of two eventful years for the quartet that has seen them tour throughout the UK and Europe several times, with spots at Download and Reading & Leeds proving to be beneficial. 'White Flag' is also their first offering with Easy Life Records. They signed with the London based label earlier this year, and can now call bands such as Waterparks, Lower Than Atlantis and Fatherson as label mates.
With a burgeoning reputation, frontman Philip Strand, guitarist Håkan Almbladh, bassist Lucas Englund and drummer Anton Franzon were allowed to bide their time when it came to making album number two. Ultimately, it led to Normandie to flex their creative muscle rather than repeating what has come before it.
"On the production side, I've taken huge steps into detailed writing. 'Inguz' was a quick process and 'White Flag' has given me time to try out new stuff and experiment on the things that I was unable to while writing 'Inguz' because of the limited time" explains Strand ahead of its recent release.
With this transition, the band have had time to nurture their sound at a rate they were comfortable with, "I think tracks like 'Ecstasy', 'Dead' and 'Maniacs' could've been on 'Inguz' – but this album just has more flavour and sides of the cube. We've filled the whole spectrum." Although Normandie already came armed with pop-rock anthems that exude rollicking hooks with galvanizing vocals, 'White Flag' demonstrates a growth in songwriting that presents Strand's emotions bare.
"It was an experience that was as horrible as it was beautiful", explains Strand when discussing 'White Flag''s songwriting. "It felt good and therapeutic writing it, but at the same time tough because I had to leave the happy place that I'm in now to dwell on the past darkness".
With 'White Flag' seeing Strand surrender to self-reflecting as a musical influence, this honesty transpires with his ability to differentiate chapters in the Normandie journey, "We've gone from writing heartless metalcore about society and anger to writing hopeful rock music with a purpose and meaning to it".
This sense of amplified meaning is teeming throughout the LP. With tracks encompassing unrequited love, empowerment and strength, the overall message that Strand wanted to impart challenges a common conform regarding mental health in society, "It's okay to give up, to change paths and to not always have to 'push through it'. If you pursue your dream and it doesn't work out after attempt 5, maybe there's a reason". This candid approach, as heard with the satirical lyric in 'Heaven'; "Breakthrough all the misery my friend", is a testament to how Normandie have matured with compelling substance.
"It's all 'be strong, you will get through it' and I just feel like sometimes there has to be sadness in order for you to feel happiness. Don't push through everything."
Although Normandie haven't totally departed from the slick sound that birthed them a following, Strand details how this LP's focus was centred around developing the outfit in the way they truly wanted, "We decided early on that we were not gonna write this album for the fans, we were gonna write the album we wanted and hope for the best."
"We've gone from writing heartless metalcore about society and anger to writing hopeful rock music with a purpose"
With this initial hopefulness, Normandie can subsequently find solace in their home away from home. After mesmerising performances at Reading & Leeds and hitting the road with Hands Like Houses, the presence of the quartet in the UK doesn't go unnoticed, "The UK is something special for us. It's our second home and we seem to be growing rapidly, we make so many new friends every time we're over here. Word of mouth is a powerful thing."
'White Flag' is a consistent album of substantial catharsis. After manoeuvring their focus, Normandie has produced a record that is a true reflection of them. They are no longer dwindling in the shadow of a mass genre, but are sure staples to the scene.
'White Flag' by Normandie is out now on Easy Life Records.
Normandie links: Website | Facebook | Twitter | Instagram
Words by Ffion Riordan-Jones (@FfionAbigail_)