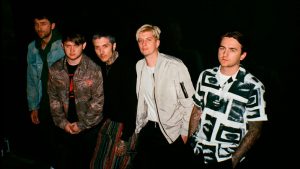 This weeks round of releases has you spoilt for choice, as there are some major releases seeing the light of day today.
Leading the way is 'amo', the highly anticipated new album from Bring Me The Horizon. While names such as FIDLAR, Blood Red Shoes, Say Anything and Rival Sons all return with new full-lengths.
When it comes to exciting new talent, there are plenty of noteworthy releases to be checking out. For starters, there is the stunning debut EP from A.A.Williams, as well as the long-overdue debut album from Puppy. We also recommend giving the new releases from Press Club, Chapter and Verse, The Yacht Club and wars a listen.

Find the playlist on: Spotify | Apple Music | Deezer | YouTube
Bring Me The Horizon – amo (★★★ Review)
Puppy – The GOAT (★★★★ Review)
FIDLAR – Almost Free (★★★★.5 Review)
Blood Red Shoes – Get Tragic
Rival Sons – Feral Roots
Say Anything – Oliver Appropriate
MONO – Nowhere Now Here
A.A.Williams – A.A.Williams EP (★★★★★ Review)
wars – As Within /// So Without EP (★★★ Review)
Chapter and Verse – Glow EP (★★★.5 Review)
Press Club – Late Teens (★★★★ Review)
The Yacht Club – The Last Words That You Said To Me Have Kept Me Here And Safe ('Track Guide' feature/Video Premiere)
Incite – Built To Destroy
Skunk Anansie – 25LIVE@25
Breathe Atlantis – Soulmade (★★ Review)
Inglorious – Ride To Nowhere
Driver Friendly – Ceremony EP
Gamblers – Straight No Chaser EP
Dead Fall – Never Expected
Swallow The Sun – When A Shadow Is Forced Into The Light
Colossus Fall – Earthbeat