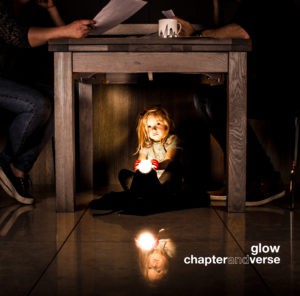 Having raised their profile with tours supporting the likes of Emarosa, Chapter and Verse's growing fanbase has been eagerly awaiting a new slice of their emotive alt-rock. 'Glow' is finally here, hardly hot-on-the-heels of their 2016 EP 'The Wolves Back Home' but thankfully, good things come to those who wait.
To the band's credit, these five songs are stuffed with details and none play out in a straightforward way. Yet, having become live staples, they work. 'The Casket' opens slowly and atmospherically, making you wait just a little longer, before finally erupting with their signature sound.
It soon becomes apparent that refinement is what they've been up to. With so many different ideas to explore it falls to vocalist Josh Carter to sell them. Luckily, he's up to the task. Powerful, yet fragile, he flirts with falsetto and holds your attention throughout. Notably on 'Magazines', which simply wouldn't work without his sweeping chorus holding together the riffs, interludes and assorted chaos.
A keystone of the band's music is Ash Morton's frantic drumming. His powerful performance provides drive to even the slower songs, making for a far noisier and dynamic sound than Darren Gosling's guitar style would suggest. Despite this, on 'A Devil in Blue' the whole band let loose, creating something as brash as any of the songs they've written before. Contrast this with 'Eleven Hours in Real Time', which steps in a more thoughtful direction, giving Jonny Hopwood's bass chance to breathe.
Popular single 'Ink' is the song to grab your attention. An arresting pre-chorus plays against your expectations by leading into a chorus which isn't a soaring sing-along, it's a repetitive statement, almost as though Carter is making it difficult for himself. Nevertheless, by forcing a hook with his tricksy voice, he makes it shine.
With a scope eclipsing their debut, the carefully constructed 'Glow' builds on those foundations, containing enough charm and inspiration to cement Chapter and Verse's place as one of alt-rock's rising stars.
3.5/5
'Glow' EP by Chapter and Verse is released 25th January.
Chapter and Verse links: Website | Facebook | Twitter | Instagram
Words by Ian Kenworthy (@WhisperingSand)