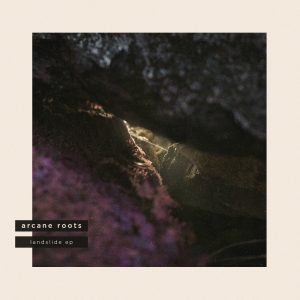 On the 31st of August, Arcane Roots left a message to their fans, saying that the 'Landslide' would be the last release from "this chapter" of the band, implying an indefinite hiatus, if not the end. This EP comprises two alternate takes,  a reinvention and new song taken from the sessions for their final album, 'Melancholia Hymns'. Well received, by all accounts, it wasn't the easiest of albums to make. A departure from the band's earlier sound, it's a record made up of protracted electronic-based songs, forgoing much of their crazy guitar work. Never ones to shy from the grandiose, the album channelled those sensibilities to build vast soundscapes. 'Landslides' shares that vision yet fails to deliver.
With alternative takes, you have the right to be sceptical, presumably the best take ended up on the album, right?  That's certainly true for opener 'Before Me (Over)'. Much like the album version, it serves as an introduction and is pretty nebulous, never properly making a statement in its own right.  Similarly, 'Matter (Revel)' feels incomplete. Ghostly vocals haunt a broken metronome sound, fading and lingering around until the payoff, which is a weird farty bassline. Underwhelming isn't the word. It'd be comical if you hadn't wasted five minutes of your life listening to it. Neither song has teeth, at best they're atmospheric swirls, hence the epic 'Landslide' stands out.
Left unfinished during the initial sessions, it shares a template with the album's best cuts. The moody opening thankfully spreads into chunky guitars and Andrew Groves' signature wail; it's everything the band excel at. Shorn of the original's focus, guitars and vocal hooks, 'Off the Floor (Fade)' works surprisingly well. Presented as another drawn-out haunting piece, it embodies the reimagining tag and you'd be hard-pressed to recognise it as the same song.
Disappointing, insubstantial and largely missing the careful construction that made 'Melancholia Hymns' so essential, the 'Landslides' EP is more a wheezy sigh than an elegant swansong.
2.5/5
'Landslide' EP by Arcane Roots is released on 14th September on Easy Life Records.
Arcane Roots links: Twitter | Website | Facebook
Words by Ian Kenworthy (@WhisperingSand)