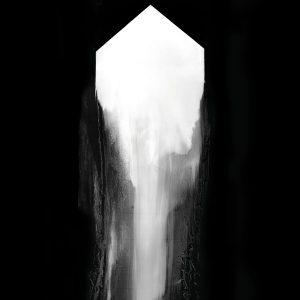 Given the amount of disturbing black metal that has come out of Norway over the years, there is either something in the water or it is simply a pretty bleak place to live if you are of a certain ilk. Attan are obviously cut of similar cloth if their disturbingly vicious debut album is anything to go by. It is as frightening a blend of fury, finesse and ferocity as you might find. 'End Of' is not for the meek.
The first five tracks flash by in under twelve minutes in a flurry of punishing rhythms, anguished hardcore-esque vocals and a cacophony of furious clashing riffs. Intense seems an almost inadequate description for the relentless sensorial attack, whether it's the pure mayhem of 'The Burning Bush Will Not Be Televised', the discordant doom-laden riffs of 'Feed the Primates' or 'SoMe Riefenstahl' with its spoken word vocals and bleak soundtrack.
The promise of the all-out fury of the first half of the record really comes to fruition on 'Black Liquid Marrow'. An incredibly intense number with a monolithic, lumbering midsection straight from the bowels of hell to break up the viciousness spewing forth. There are a few atmospheric touches to the equally intense 'Catalyst Divine' and when you think they can't go any deeper, the alarmingly incessant fury of 'Ghostwriters' dials it up yet another notch – breathtaking.
Title track 'End Of' slams the coffin lid shut in quite stunning fashion. The epic nine-plus minutes of atmospherically doomy lamentation boasts classy guitar work that layers hypnotic anguish. It's no less intense, despite never getting out of second gear, and makes for a suitably cathartic finale after the rabid attack that precedes it.
All in all, this is quite a stunning debut from Attan that fits nicely into the resurgent extreme metal scene. On the strength of these nine inexorably ferocious tracks here, this is a band so vicious they could reduce Lucifer himself to a quivering wreck.
4.5/5
'End Of.' by Attan is out now on Fysisk Format.
Attan links: Facebook | Instagram | Bandcamp
Words by Edward Layland (@EdwardLayland)