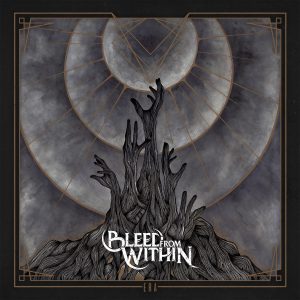 'Era' is the fourth studio album from the hard-working Glaswegians, Bleed From Within, and five years on since their last release, is another solid step forward. New guitarist Steven Jones proves himself a talented addition and has helped draw the band's long time promise together into a series of classy performances, making 'Era' an appropriately named record of the current scene.
'Clarity' kicks it all off with a blistering attack; the opening drum salvo fair warning of what to expect, it being followed up with machine gun riffing, pummeling rhythms and a killer hook to the chorus. This is a band that puts the metal in metalcore and with Scott Kennedy's clean vocal being a rumbling growl, they find a neat balance between the stylistic limits of metalcore and old-school thrash influences to achieve a modern metal sound.
'Crown of Misery' follows in equally violent style and is one of the stand out tracks. It is seriously thrashy with a flying riff, and even with more melodic moments it leans well towards Sepultura territory – it's hard, it's heavy, it's a great tune. The classy 'Afterlife', with its sinister undercurrent and the vicious 'Bed of Snakes' make for similarly high quality numbers.
The only real criticism is that there is a slight lack of variety in stylistic terms, the flow of attacking metal being broken up only by 'I Am Oblivion, Pt. II' with its semi-acoustic intro and slower pace, while 'Alone in The Sun' has a slightly more hardcore tilt to it.
Nevertheless, the album as a whole is of exceptionally high quality; 'Gatekeeper', for instance, has a wicked head banging groove with an epic 'The end is nigh' chorus, while 'Alive' provides a super fast final salvo, its frantic pulsating ebb and flow, making for a fitting finale.
All in all, you've got to hand it to Bleed From Within. They have delivered a quality record, fulfilling their potential. It just might be the right record at the right time to see them achieve some well-deserved success.
4/5
'Era' by Bleed From Within is out now on Century Media Records.
Bleed From Within links: Website | Facebook | Twitter | Instagram
Words by Edward Layland (@EdwardLayland)