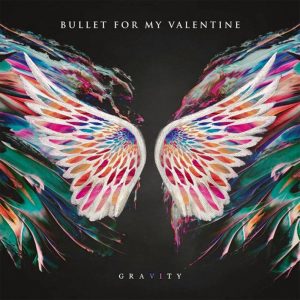 Those expecting a straightforward follow up to Bullet For My Valentine's last studio album 'Venom' might be in for a bit of a surprise with latest release 'Gravity'. The Welsh rockers sixth full-length is a departure from their usual on-the-nose heavy rock sound; showcasing a modern, melodic metalcore vibe utilizing samples, synths and keyboards.
Heard throughout, but most noticeably on the likes of 'Letting You Go' and 'Under Again', this eerie and atmospheric electronica fills the space where guitars may once have been. Although it might not sit well with purist fans of the band, for those with an open mind, these are eleven awesome tracks to get your teeth stuck into.
It's still noisy, heavy and exciting, with plenty of swirling solos and chunky guitars. Tracks like 'Don't Need You' and 'Piece Of Me' are slightly more reminiscent of the Bullet of old. 'Leap Of Faith' is perhaps a fitting title and opener for the album, as the band taking their fans on a new journey, inviting them to take that leap of faith with them. The song starts with a tense dramatic build up, thundering drums breaking out into a dramatic, emotive chorus. In fact, most of the choruses on this album are massive and melodic. Such as the Linkin Park-esque 'Under Again' or the soaring singalong of 'Not Dead Yet' with its echo drenched backing vocals and uplifting hook line.
Ballad offerings come in the form of 'The Very Last Time', a beautiful and atmospheric track building with cascading drums crashing into the final chorus; and last track 'Breathe Underwater'. The latter features pretty acoustic guitars and dreamy vocals, ending the album on an emotional, thoughtful note.
With rich tones, thick guitars and warm production courtesy of Carl Bown, 'Gravity' is the sound of a band fully in control of their craft. The album oozes attitude without arrogance, and displays the maturity to experiment creatively. "Start living cause we're not dead yet," Matt Tuck confidently sings on 'Not Dead Yet', and Bullet For My Valentine definitely aren't.
4/5
'Gravity' by Bullet For My Valentine is released on 29th June on Spinefarm Records.
Bullet For My Valentine links: Website | Facebook | Twitter | Instagram
Words by Becton Simpson (@swallowmyeyes)