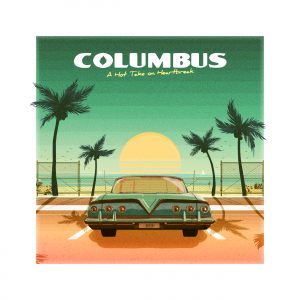 Alex Moses didn't mess around when he explained why Columbus had changed their style so dramatically for their second album: "We didn't want to be a pop-punk band anymore," the singer and guitarist said.
And on 'A Hot Take On Heartbreak', the Australians exhibit not so much a change as a wholescale reinvention — the breakneck tempos and yelled vocals are gone, replaced by a much more reserved, straightforward pop-rock template that draws from new influences. Moses plainly says this was down to the changed listening habits of he and his bandmates, Ben Paynter and Daniel Seymour.
While 'A Hot Take On Heartbreak' does sound throughout like the trio are having more fun than ever, it yields wildly mixed results. The Weezer-like chugging of 'Don't Know How To Act' fails to ignite, but the simplicity and quiet-loud dynamic of 'Worn Out This Week' is irresistible and begging to be cranked up.
'Feelin' Low' and 'Give Up' possess characterless, unmemorable melodies, while the acoustic closer 'Feel This Way' drags its heels and represents a regression from the band's acoustic EP, released last year. But again, in contrast, the unapologetic self-loathing of loser anthem 'Piece Of Shit' is wonderful. Ironically the most punk-rock song here, its quality and dry sense of humour transcends genre and deserves exposure.
The identity of one key reference point may remain frustratingly elusive for most of the record, but it becomes clear on 'Difficult Conversations.' The Madden brothers would be more than proud of those harmonies, and indeed a chorus better than most of the last Good Charlotte album.
Columbus should be applauded for such a drastic shift of gear, even if their vehicle might not be quite roadworthy yet. 'A Hot Take On Heartbreak' will certainly lose the band fans. But, if they can harness the potential of its best bits, they will win new ones, and win them in vast numbers.
3.5/5
'A Hot Take On Heartbreak' by Columbus is released on 25th May on UNFD.
Columbus links: Website | Facebook | Twitter | Instagram | Bandcamp
Words by Peter Stewart (@PeteStew_)