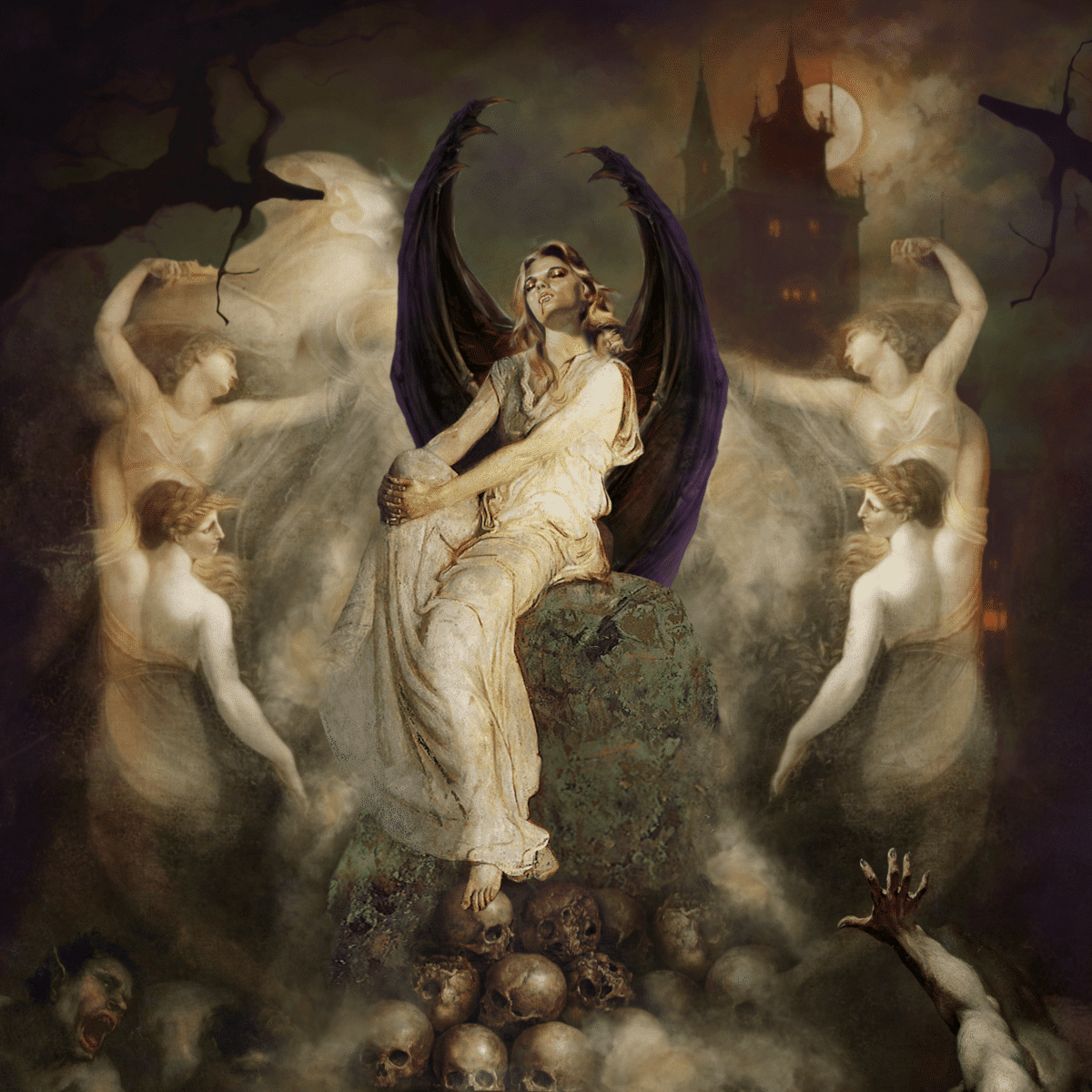 Creeper have always had flair for the theatrics yet 'Sanguivore' considerably sees them taking it to another level. Its narrative revolves around the relationship between Mercy, a 19-year-old Vampire with a soul dating back thousands of years, and Spook, an older man who falls under her control. Their tale is told across 10 tracks that push Creeper's sound further than before. 
'Further Than Forever' instantly backs this up, sounding like it's been torn straight from the late Jim Steinman's playbook with lyrical nods to Misfits. Whether you call it flamboyant or pompous, it naturally works for Creeper. In short, it's a rock opera that brilliantly sets up the fatalistic tale over the course of nine minutes. One moment it's soaring gloriously with stirring guitar solos, the next thunderously comes crashing down as Spook meets Mercy. 
'Cry To Heaven' maintains the grandiose tone with its angelic choir, big striking guitars, and muscular rhythm section. All the while William Von Ghould (aka Will Gould) has a devilish tongue and Ian Miles provides a thrilling solo before Von Ghould and Hannah Greenwood pull off the signature keynote, as they charge towards the track's conclusion.
As 'Sanguivore' settles, you soon realise that Creeper mix their spectrum of influences and styles with ease. 'Sacred Blasphemy' captures their goth punk origins as it rushes during its chorus akin to AFI, before Von Ghould adds a bit of horror to the track, doing his best Vincent Price (or Christopher Lee) voice. It segues into 'The Ballad Of Spook & Mercy'; a dwindling and sinister lullaby that keeps the narrative going, while leaning heavily into a Nick Cave influence. Elsewhere there's a dose of 80's power metal via 'Teenage Sacrifice', more rousing punk with added "woah"s thanks to 'Chapel Gates', before 'Black Heaven' serves up a slice of gothic disco as Von Ghould's baritone verses pulsates in the track's dark synthwave skin.
In contrast, his voice soars on the haunting closer, 'More than Death'. Yet it maintains the dramatic tone and poise that 'Sanguivore's narrative thrives on. Sure, a piano ballad is the inevitable finale that you would expect from an album like this, but its execution is precisely raw and delicate. 
Ever since emerging from Southampton nearly a decade ago, Creeper have repeatedly reinvented themselves, yet still retain the nuances that make them Creeper. 'Sanguivore' is no different. William Von Ghould is charismatic as ever, crooning and soaring with flamboyance. Whereas Hannah Greenwood once again shines in the backing vocal department, adding graceful piano and throbbing synth keys throughout. While incoming drummer Jake Fogarty has slotted in to complement Sean Scott's bass.
Is 'Sanguivore' overly ambitious? It absolutely is, yet Creeper have pulled it off without being too camp in its execution. It's a record crammed full of ideas yet, somehow, never loses its focus. Anchored by a blood-soaked narrative, 'Sanguivore' allows Creeper to expand their musical boundaries almost organically. It's a record striding with confidence, unfiltered in its delivery, and unafraid to embrace the band's influences. The end result is a captivating, bombastic record.
4.5/5
'Sanguivore' by Creeper is released on 13th October on Spinefarm Records.
Find Creeper on the following: Official site | Spotify | Apple Music | YouTube | Facebook | Instagram | Twitter
Words by Sêan Reid (@SeanReid86)