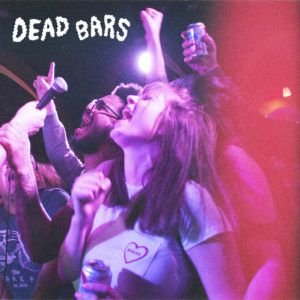 For all the self-proclaimed freaks and outcasts, Dead Bars has your back. Dead Bars pride themselves on creating music for those who don't fit in, creating an environment for listeners to let their freak flags fly. Subject matter wise, 'Regulars' is a classic party rock album. When listening to 'Regulars', you can't help but reminisce about being a teenager, drinking and partying into the early hours.
'Freaks' is a short and punchy anthem that calls all outcasts to band together and celebrate their individuality. This feeds directly into 'I'm a Regular', the idea of being an outcast is strong throughout 'Regulars', Dead Bars create their own definition of what it means to be 'regular'.
Dead Bars manage to create a sound that is rough around the edges and sounds just like a live record. With the use of guitar feedback, it sounds familiar to other Seattle bands from decades past. 'Time Takes Away' shows this un-polished sound with simple instrumentation and growling vocals. 'Rain' exhibits the classic Seattle feedback at the beginning, with a crowd ensemble feel.
Though some of the riffs sound quite similar throughout the album, 'Another Day' shows that Dead Bars can be a little more technically diverse, with a riff that's a little more complicated. It would be refreshing for the riffs to differentiate a little more though, maybe trying more interesting rhythms perhaps.
It could be said that 'Regulars' is one dimensional, with many of the tracks sounding similar and not really going anywhere. Though this may be true, it does fit in with the entire vibe of Dead Bars. The idea of 'Regulars' is simple, feel-good party music. The lyrics are as simple as the music, as shown in 'No Tattoos', where the lyric "all my friends have tattoos, but I don't have any tattoos" is repeated. But when listening to Dead Bars in a dingy rock club with a drink in your hand, do you really care about lyrical complexity?
3/5
'Regulars' by Dead Bars is released on 3rd May on A-F Records (USA)/All In Vinyl (UK).
Dead Bars links: Website | Facebook | Twitter | Instagram | Bandcamp
Words by Evelyn Manktelow