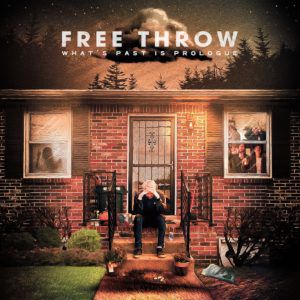 Since their inception, Free Throw frontman Cory Castro has used the platform to discuss personal struggles. Their third full-length outing, 'What's Past Is Prologue', is a continuation of that yet it sees Castro at his most candid.
Cory's introspective lyrics are blunt yet serve as the album's spine. A combination of damaged relationships, unnecessary vices, and a reclusive attitude, they provide a thoroughly frank account of someone dealing with mental health issues. The first half lyrically dwells on these.
'Smokes, Let's Go' tenderly opens as Castro's words of starting smoking again and broken promises paint a picture filled with guilt, before 'The Corner's Dilemma' documents his dependence on alcohol, used as a crutch for awkward situations and to take away any remorse. It's sandwiched by 'Tail Whip, Struggle' and 'You Don't Say That', both document a turbulent past relationship.
By the time we reach 'Today is Especially Delicious', he's "drinking for breakfast" except it's a turning point in Castro's mentality. On 'The Fix Is In' he simply states "I need help". The remainder of the record is particularly contemplative. 'Perfect Driftwood' shows determination before the closing title track radiates with positivity as he sings "I finally learned to love myself".
Admittedly, Castro's songwriting is a major factor on 'What's Past…', it wouldn't be as effective if it wasn't for his bandmates. Stylistically falling somewhere in between Manchester Orchestra and Tiny Moving Parts, the quiet-loud dynamic is executed neatly. The blend of delicate verses and impassioned blasts allows Castro's emotions to be amplified ideally, with a host hook-laden singalongs throughout. Although not uncommon, the concise delivery threads the record together well.
Nevertheless, 'What's Past…' takes you on a journey which sees Castro at his lowest, before realising the past is the past. It makes for a captivating narrative which reveals itself with each listen. Free Throw sound content with where they're at, both personally and collectively, with a brighter outlook.
3.5/5
'What's Past Is Prologue' by Free Throw is released on 29th March on Triple Crown Records.
Free Throw links: Website | Facebook | Twitter | Bandcamp | Instagram
Words by Sêan Reid (@SeanReid86)