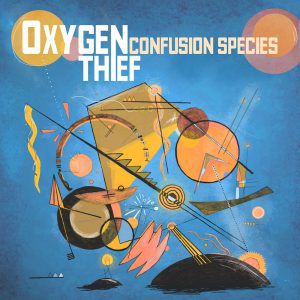 Fear is a powerful emotion, to be acknowledged and understood, as Bristol three-piece Oxygen Thief demonstrate on third full-length 'Confusion Species'. Packed with metallic punk aggression and scathing critiques of society, this is an album created by paranoia and distrust. It doesn't care for patience or subtlety.
Opener 'End Of the Pier Pressure' nails this point. Abandoning any conventional intro and opening with straightforward pile-driving guitar riffs, as frontman Barry Dolan proclaims: "Admitting I was wrong, doesn't mean you were right, you just came to the same conclusion, at a different time". In many ways, that lyric reflects the stubbornness found in modern political discourse. Each side needs to be at fault somehow.
Naturally, 'Confusion Species' is a political record by nature. Its vitriol comes from watching your country's demise via caricature leaders miscalculating the irreversible consequences of their actions, while the rest of the public turn a blind eye. Cries of "Rename the buildings, rewrite our histories" on 'Suspension Bridge of Disbelief' reflects the UK's process of isolating itself.'Graffiti; Irony; Lists' adds that the nation is built on "hate and selfish performance anxiety".
[youtube https://www.youtube.com/watch?v=tXy82kzVfsE]
Some might say they've heard this all before, and that a lot of the album's themes are the same as those in '1984'.  But Orwell never wrote a riff as hard the mid-section of 'Lost In the Post-'. Punctuated by claustrophobic urgency, 'Confusion Species' is full of concrete slabs of distorted guitars that feel like outlets of pure frustration Admittedly, Dolan and bassist Neil Elliott thrive on lots of Reuben worship throughout these compositions, but this familiarity is often countered by drummer Ben Whyntie's spontaneous blastbeat sections.
Oxygen Thief's flesh-and-bone rawness is key to 'Confusion Species' and any attempt to romanticise or polish these tracks would instantly dull their blade. This record is based on fear and concern and it's used to crushing effect.
4/5
'Confusion Species' by Oxygen Thief is out now on Xtra Mile Recordings.
Oxygen Thief links: Website | Facebook | Twitter | Instagram
Words by Andy Davidson (@AndyrfDavidson)