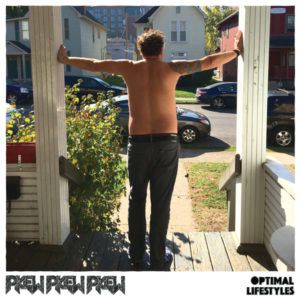 "Gruff punk" is an odd label, yet it somehow manages to describe Spanish Love Songs, The Menzingers, and of course Pkew Pkew Pkew to a tee. The countless bands who fall under that label are a far cry away from the sickly whining of post-00's pop-punk, but a good medium that encapsulates the traditional spirit of punk rock.
Regardless, PPP's second album channels the typical late 20's/early 30's woes of ageing into carrying on hedonistic partying from their youth. This is made unashamedly clear from the chorus of the opening track 'Still Hanging Out After All These Years', "we're still the same old kids no one cared about, we're going to drink these beers and pass the fuck out".
Structurally the instrumental performances on 'Optimal Lifestyles' are satisfying and punchy. They instantly tug at your heartstrings and make you want to air drum/guitar in public without a care in the world. Accompanying this, guitarists Mike Warne and Ryan McKinley sound a lot more distinct in their vocal and songwriting abilities this time around, with compelling storytelling that isn't just about getting fucked up with your friends, or wallowing in complete self-pity.  There are of course a few songs like that, namely 'Drinking Days' and '65 Nickles',  but also it would be far too serious without the admittedly fun cliches, in moderation of course.
Taking a jab at industry snobs and spoiled millennials that attend punk shows, the mantra of 'Adult Party', "rich kids, go fuck yourselves, if there's someone in the audience or somewhere else" is a fatigued cry against those ruining the fun for those who've worked hard all their lives to get to where they are now.
Technically polished, straightforward and insatiably catchy, 'Optimal Lifestyles' offers us a chance to reflect on the shitty things in our life and laugh right back at them with a positive outlook on everything.
4.5/5
'Optimal Lifestyles' by Pkew Pkew Pkew is released on 1st March on Big Scary Monsters.
Pkew Pkew Pkew links: Website | Facebook | Twitter | Instagram | Bandcamp
Words by Ashwin Bhandari (@GIVEUPOX17)