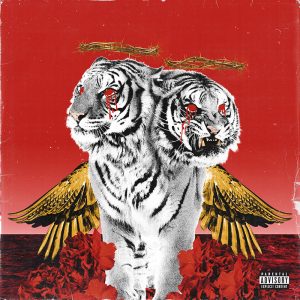 Polyphia have been the melodic darlings of the Djent craze ever since their 'Impassion' playthrough on YouTube shot them to the forefront of the scene. That was back in 2013 and their latest outing, 'New Levels New Devils' sees them add a trap flair to their sound in an attempt to stand out in the saturated Djent landscape
Right off the bat, the production on this album sounds heavier than your usual tech-rock outing. Unfortunately, opening tracks 'Nasty' and 'OD' are a struggle to get through, but they serve as a decent introduction for what lies ahead. 'Death Note' is a standout track with its dreamlike qualities making it very easy to listen to. Up next we have 'Bad' and 'Drown' which are both melodic gems on this album, with a guitar solo on 'Drown' that screams of blues-rock sensibility.
'Saucy' has a Spanish flair which is a nice addition to their already varied output. It seems that the further you delve into this album the better the music gets. The addition of vocals in the funky 'So Strange' is a neat accompaniment to the music. You can also hear the obvious trap beat that comes along later in the closing moments of the song which is a nice touch.
Polyphia save the best song for last. Lead single 'GOAT' is a triumph, which pairs their trap influence well with their technical grooves. Their airtight polyrhythms and virtuosic guitar playing provide forms a good combo to the bass-heavy soundscapes on this song.
This is an album that will definitely satisfy any fan of Djent or progressive music, but like most releases in this genre, any newcomer might struggle. On this LP, Polyphia fuse two genres of polar opposites to create heavenly beats that sound as ethereal as they do hefty.
3.5/5
'New Levels New Devils' by Polyphia is released on 12th October on Rude Records / Equal Vision Records
Polyphia links: Facebook | Twitter | Bandcamp | Instragram 
Words by Dylan Whitty (@rootsinwax)