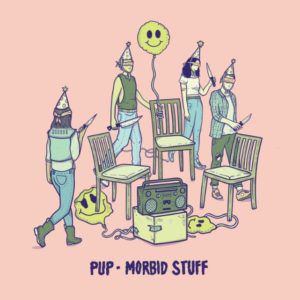 Forever on tour, forever full of witty one-liners that fans time and time again get tattooed on their skin and forever injecting so much joy into the misery in our lives. Toronto's PUP are back with their third LP, which as the title suggests, sees frontman Stefan Babcock and the gang deal with dark life experiences by being able to laugh at yourself and get through them with a sense of community.
The biggest change is that PUP have completely upped the ante with their trademark gang vocals, bringing along Charly Bliss's Eva Hendricks for lead single 'Free At Last.' This includes the brilliantly snarky quip: "Have you been drinking? Well of course I have! Why the hell would I be here if I wasn't?" 
Guitarist Steve Sladkowski's dishes out more flamboyant guitar harmonies than you can shake a stick at, whilst giving you plenty of breathing space this time to take in their poppier sensibilities; The joyfully cynical choruses of 'Kids' and 'Sibling Rivalry' in particular are some of the catchiest outputs they've ever put out. You can almost taste the sweat and stale beer from wherever you're listening to 'Morbid Stuff' from.
As with a lot of Badbock's songwriting,  on 'Morbid Stuff' you feel like you're sat in PUP's touring van with him at some ungoldly hour of the night reading the entries of a man determined never to give up the dream. This time around however there's more reflection on feeling trapped when the realities of life outside of music kick in. Pure frustration is vented out nicely with the post-hardcore rager 'Full Blown Meltdown' which really speaks for itself. By the time you reach 'City' you'll experience a beautiful sadness whilst drowning in a hazy mess of instrumental bleakness.
Building solidly on everything that made us fall in love with PUP back in 2013, 'Morbid Stuff' will help pick you up and laugh with you when everything goes to shit.
4/5
'Morbid Stuff' by PUP is out now on Rise Records.
PUP links: Website | Facebook | Twitter | Bandcamp
Words by Ashwin Bhandari (@GIVEUPOX17)