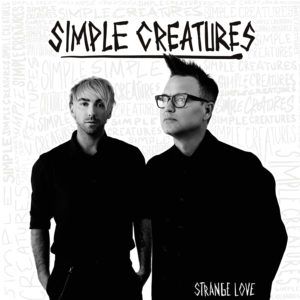 The prospect of blink-182's Mark Hoppus and All Time Low's Alex Gaskarth working together is an exciting one, at least on paper. After all, both of their bands have become influential within the pop-punk scene, with even the latter picking up the mantle from the former. Nevertheless, their pairing under the moniker of Simple Creatures isn't quite the pop-punk "supergroup" some may have expected. Admittedly, their debut outing, 'Strange Love', has commonplace traits of many side-projects. Although it's not one to be dismissed.
Their take on dark synth-pop is admirable with 'Drug' starting off proceedings strongly. Playful "nah-nahs" fool you before the pair sing about being disillusioned and "stumbling off the rails". It's an ideal introduction which bridges both of their other bands.
As duel vocalists, it's no surprise Gaskarth as the one who carries the hooks. For example, 'Strange Love' sees Hoppus sing the monotone verses before Gaskarth's smooth and catchy lead in the chorus. It's a welcomed contrast between the pairing.
The atmospheric midway point, 'How To Live', brings the tone down with its scarce tempo that never really grabs your attention. Thankfully, 'Adrenaline' puts things back on track. The Gaskarth-led number is carried with driving guitars and a thick, post-punk bass line, making it one of the more notable tracks on here.
Unfortunately, the momentum isn't sustained as 'Ether' is another piece of brooding electronic ambience that horribly rhymes "ether" with "either". Although it shows a willingness to add musical depth, it's perhaps the most forgettable song on here. Much like 'Adrenaline', Simple Creatures soon turn things around as 'Lucy' offers an appreciative closer with distant reverb guitars, punchy drums and Gaskarth's "ooh"'s contributing to an upbeat finale. Again, the dual vocal work is executed nicely and is well-balanced.
By combining their pop sensibilities with stylistic exploration, Simple Creatures have produced a commendable first outing. With a second EP already in the works, it's clear they're only just scratching the surface.
3/5
'Strange Love' EP by Simple Creatures is out now on BMG.
Simple Creatures links: Website | Facebook | Twitter | Instagram
Words by Sêan Reid (@SeanReid86)