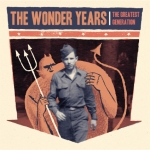 Summer is nearly here and with it comes a wealth of pop punk releases, with some of the genre's bigger names set to release highly anticipated albums. For some, they don't come any bigger than The Wonder Years. Returning with their fourth album, the boldly titled 'The Greatest Generation' is the final chapter of a trilogy about growing up.
With so much hype and expectation, old and new fans can be reassured that unlike some disappointing movie trilogies, this finale doesn't disappoint. If anything it leaves feeling triumphant and celebrating what The Wonder Years have achieved and where this album can take them.
'There, There' gently opens the album at a mid-tempo pace, a simple guitar and Dan "Soupy" Campbell's vocals before bursting through with urgency yet leaves you hanging on to every word as Campbell sings "sorry I don't laugh at the right time." Whilst it's not the bright, upbeat start some may want, it certainly sets the tone for the rest of the album.
If you're like me and a fan of the band then you've probably played 'Passing Through A Screen Door' to death by now. With its punching chorus and introspective lyrics, it has all the ingredients you want from a Wonder Years song and is an early standout on the record.
As the record settles into itself, the Pennsylvania band showcase their common trait of combing feel-good pop punk with sincere lyrics ('We Could Die Like This' and  'The Bastards, The Vultures, The Wolves'.)
Whilst 'The Devil in My Bloodstream' takes a more sombre approach; gentle piano keys and Campbell being joined by Laura Stevenson for a powerful number, as he admits his fear of his Grandpa's depression getting a hold of him. The full band come in to drive the song home with an emphasis on every word. Don't be surprised if this becomes a highlight during the band's upcoming Slam Dunk and Warped Tour dates.
Next 'Teenage Parents' and 'Chaser' deliver a one-two almighty pop-punk punch where you can't help but embrace and leave you with a broad smile across your face.
Whilst some bands in the genre take the act tough approach or write stereotypical whiny bitter love songs, The Wonder Years continue to find the perfect formula. Tracks like 'A Raindance In Traffic' and 'Cul de Sac' have a subtle heavy edge which is nicely combined with an approachable pop-punk style; upbeat yet appreciative both musically and lyrically. I'd go as far as saying structurally TWY can be somewhat unconventional, showing they are more than willing to go outside of the pop-punk safety zone.
Closing the album is 'I Just Want To Sell Out My Funeral.' At seven minutes long, it's a bold, epic finale that keeps your attention throughout. Pounding drums, and soaring guitars line with "Soupy" bringing the album together with mentions of being in airports ('Dismantling Summer'), devil on his shoulder ('The Devil in My Bloodstream'), and hand-me-downs. A compelling closure to a record that sees a band once again upping their game.
With stronger choruses, introspective and relatable lyrics and confident consistency, 'The Greatest Generation' has the capability to open new doors for The Wonder Years, the pop-punk genre and along with 'The Upsides' and 'Suburbia I've Given You All and Now I'm Nothing' has the potential to influence a whole era of aspiring bands.
A progressive triumphant that is bound to serve as your summer soundtrack and beyond.
4.5/5
'The Generation Generation' by The Wonder Years is released on 13th May on Hopeless Records.
The Wonder Years links: Official Website|Facebook|Twitter
Words by Sean Reid (@SeanReid86)