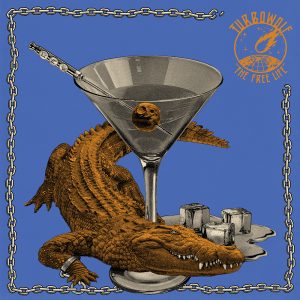 It's safe to say that Turbowolf, aren't afraid to push their boundaries on this third full-length outing. Known for providing a melting pot of sounds, 'The Free Life' covers plenty of ground from punk to heavy metal to alternative rock.
It only takes a couple seconds of a softly spoken opening before the first fuzz-laden guitar riffs hits. 'No No No' manages to perfectly encapsulate what's to come on the rest of the record, while simultaneously teasing the listener with a taste of the surprises to come. Be that guest spots or stylistic twists.
Although it's admirable that the band aren't afraid to try different sounds, it also gives way to a lack of consistency over the course of 'The Free Life''s 11 songs.
It appears they have tried to please too many people at once by exploring so many different sounds within one album, an issue highlighted by the contrast between 'Last Three Clues' and 'Up & Atom'. There's a chance you won't love every single song on offer, but there are a handful of standout moments. 'Domino' is a lightning bolt of fuzzy rock, while 'Blackhole' thrives on razor-sharp guitars and a swaggering punk attitude.
Throughout the record there are a steady stream of notable guest vocals from the likes of Joe Talbot (Idles), Sebastian Grainger (Death From Above), Mike Kerr (Royal Blood) and Chantel Brown (Vodun). This isn't just an attempt to squeeze in as many guest vocals as they can however, as each guest adds to the diversity of the album.
Things ends with the aptly titled 'Concluder', a slow, stripped-down number which, although enjoyable to listen to, does end the release in a low key manner.
Nevertheless, whether you prefer semi-acoustic cuts such as the jangly, hand-clapping 'Halfsecrets', or heavy thrill rides ('Very Bad' and 'Cheap Magic'), there is something for everyone here. It still manages to have the familiar Turbowolf sound whilst also showing a moves in a new direction.
3/5
'The Free Life' by Turbowolf is out now on SO Recordings.
Turbowolf links: Website|Facebook|Twitter|Instagram
Words by Alex Flores.