Recently, epic prog metal masters TesseracT shared details of their new album – 'War Of Being'. While the album isn't released until September 15th (via Kscope), that hasn't stopped the quintet from sharing its second single via their very own video game.
The track is called 'The Grey' and captures TesseracT's signature grooves, polyrhythmic rhythms, and melodic nous.
"'The Grey' explores the story and character within The Strangeland of the same name. A character who has suppressed their own voice to the point that they have blended into the shadows, their story lost amongst the white noise of the world," explains TesseracT bassist Amos Williams. "Through the song, we experience their journey as they wrestle with their frustration and sorrow at how they have ended up this way. It's a powerful, energetic piece that pushes each member of TesseracT to a next level of musicianship and expression. And continues to shine a light upon the diversity that can be expected from War Of Being."
The release of 'The Grey' coincides with the early access release of TesseracT's immersive video game. Also titled 'War Of Being', users can enter the world of the album bridging the gap between listening and experience to create a living, breathing concept that brings you closer to the world of TesseracT than ever before. The visualiser for 'The Grey' was created by Williams and incorporates areas seen in the game.
The 'War Of Being' VR game was developed by TesseracT vocalist Daniel Tompkins, alongside Adam Boyt (Programmer / Developer) and Kirsty Harvey (3D Designer). On the creation of the game, Tompkins said; "As a keen gamer and live streamer, I have always understood the potential waiting for a musical project to bridge the gap between the gaming and music worlds and with such a visually stunning concept, I could see that this was the perfect opportunity to bring it to life in virtual reality and as a desktop game.
"This has been without a doubt the biggest project I have personally ever undertaken and is a huge achievement for our developers. It has pushed us to our absolute limits and I'm so proud to have accomplished the beginnings of a fully developed game on Steam."
The game will be available exclusively on Steam for £4.99 UK and playable in VR on Viva / Rift S and Oculus accompanied by a SteamDeck playable version.
When is TesseracT Touring the UK and Ireland?
TesseracT will be playing shows in the UK and Ireland in February 2024 as part of the 'War Of Being' World tour.
Support comes from Unprocessed and The Callous Daoboys.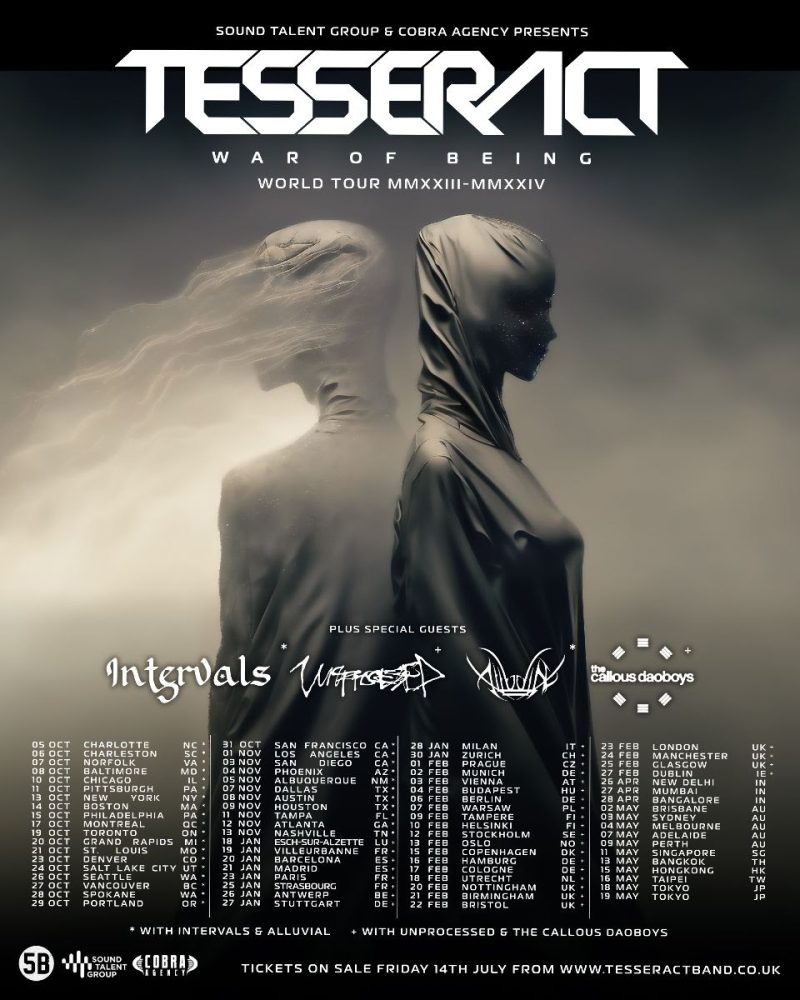 February
20th Rock City, Nottingham
21st O2 Institute, Birmingham
22nd O2 Academy, Bristol
23rd O2 Forum Kentish Town, London
24th O2 Ritz, Manchester
25th SWG 3 Studio Warehouse, Glasgow
27th Academy, Dublin