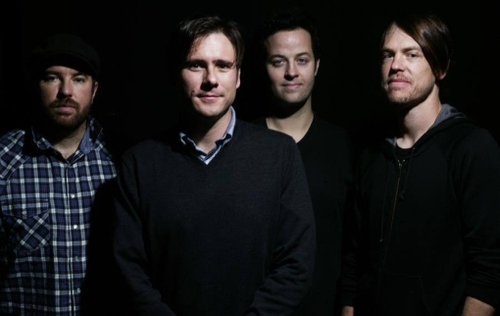 With the first part of their UK tour kicking off this week, we thought it'd be a good time to pay tribute to Arizona's emo kings Jimmy Eat World. Since forming twenty years ago, the quartet made up of vocalist/guitarist Jim Adkins, guitarist Tom Linton bassist Rick Burch and drummer Zach Lind have gone to write some of the most mesmerizing emo rock over the past decade and more. 
Throughout their career Jimmy Eat World have proved to be thoroughly consistent. From 'Static Prevails' to 'Futures' to the bands latest release 'Damage', the Phoenix band have constantly produced album after album of compelling and heartfelt numbers.
For this issue of "Versus", two members of the Already Heard try and find an answer to a question which has dominated fans for many years. Which Jimmy Eat World album is better – 'Clarity' or 'Bleed American'? 
On one side we have Aaron Lohan's defending the honor of the beloved 'Clarity', whilst Sean Reid explains why 'Bleed American' is the bands best work to date.
What do you consider Jimmy Eat World's best album and why?  Let us know on our Facebook and Twitter pages.
Clarity (Aaron Lohan)
When it comes to Jimmy Eat World, many will probably describe the band's best album as being held by mainstream breakthrough 'Bleed American' (or the second self-titled in the U.S.). Whilst 'Bleed American' was the first Jimmy Eat World record I set my ears upon, it will always be second to what I and others consider being their true magnum opus. 'Clarity', the band's third full length and first to feature Jim Adkin as lead vocalist (Tom Linton sings on 'Blister'), is truly a cultural masterpiece in the modern era of alternative music.
This is a record that excels in beauty and brilliance; themed with a heart on sleeve honest on such matters as doubt, adoration, integrity, independence, yearning and longing. The songwriting upon such subjects is sweetly compelling, but what truly brings them out is the dynamic instrumentation that swells from album's being.
Seriously, the band displays musicianship that swims in a wonderful purified sea that is all sparkly and bright. The different styles they put into each track is utterly flawless. 'Lucky Denver Mint' is a light powerpop summer breeze; 'A Sunday' is a slow number cradled gently with violins and bells; and 'Crush' is a fuzzy, sweet sounding indie rock explosion. The effect of such well-orchestrated music is of the magnificent and the emotional. I could go on and list a number of examples in this finely tuned brilliance but you have to feel, hear and experience it for yourself to believe it.
Before I end on a summary, I should describe to you the focal point, the mere peak of this record. This track is called 'Goodbye Sky Harbor', a euphoric sixteen minute journey of blissful, break-taking proportions that'll capture your imagination to the ends of infinity and beyond. It pours with a shower of harmonies, hypnotic chiming guitar passages and a crashing wave of noise towards the end. Once you've reached the top of this peak, there is simply no going back, especially when the view is enchanting to behold.
So there you have it, this is my argument for the best album from Jimmy Eat World, and it is called 'Clarity'. In fact, I shall return to its presence, as I hear its song beckoning me to listen to it once more.
Bleed American (Sean Reid)
I'll start off this argument by declaring Jimmy Eat World are my favourite band. My love affair with the band has grown with me from my teenage years into my twenties. They're in a incredibly small group of bands where I like everything they release. Whilst 'Clarity' wears its heart on its sleeve and dwells on crippling emotions, in my opinion its not quite the perfect record so many think it is. 'Bleed American' IS a perfect album. I'll even go as far calling it "life changing", because thats what it did for me.
Back when I was a 15 year old nu-metal listening skater boy, 'Bleed American' opened my eyes and ears to a style of music that thrived on brilliant songwriting. It is an album that easily flows back and forth between adrenaline filled, radio-friendly numbers like 'The Middle' and soft, sombre moments such as 'Hear You Me' yet it is tied together by the bands mature, introspective songwriting.
Admittedly it is perhaps the bands most accessible record but when the opening title track and 'A Praise Chorus' deliver a one-two punch of insanely catchy, guitar driven emo rock, you really can't complain. For some the album thrives on the more up-tempo moments (see 'If You Don't, Don't' and 'The Authority Song') however for me its the more gentler tracks like 'Your House' and 'Cautioners' where the album comes into its own. On the latter, the bands simple yet compelling ballad are enhanced by Rachel Haden's captivating guest vocals. Elsewhere 'Hear You Me' and the concluding 'My Sundown' take your breath away as the bands sweetly pour their emotions out.
On the whole 'Bleed American' takes you on a rollercoaster of emotions. From feel-good, hook-filled rock numbers to soothing, reflective ballads that tug on the heart strings. It has everything you want from a rock album. Although releases since have come close to matching the all-round quality of it (especially 'Chase This Light'), 'Bleed American' is Jimmy Eat World's tour de force that will forever be difficult to beat. 
What do you consider Jimmy Eat World's best album and why?  Let us know on our Facebook and Twitter pages.
Jimmy Eat World links: Website|Facebook|Twitter
Words by Aaron Lohan (@ooran_loohan) and Sean Reid (@SeanReid86).