After teasing us, emotive post-hardcore group Casey have shared details of their third album. It's called "How to Disappear' and will be released on January 12th 2024 through Hassle Records and Greyscale Records.
On announcing the album, the Welsh group commented, "'How to Disappear' seeks to unravel the enduring impact we leave on our loved ones after our time has come to an end. This record explores the enigmatic intersection of existence and grief across the course of 12 songs. This album is our most ambitious project to date, and we hope you'll accept our invitation to be a part of it."
The news is joined by the release of its title track. With its atmospheric introduction, 'How to Disappear' steadily builds to an explosive chorus with duel vocals, resulting in a stunning track from the quintet.
The album will also feature the previously released single, 'Puncture Wounds to Heaven'.
Here are the full details about 'How to Disappear' by Casey
1. Unique Lights
2. I Was Happy When You Died
3. Sanctimonious
4. For Katie
5. Selah
6. Bite Through My Tongue
7. Those That I'm Survived By
8. St Peter
9. Puncture Wounds To Heaven
10. Space Between
11. Blush
12. How To Disappear
Fans can pre-order the album here.
When is Casey touring the UK?
As previously announced, Casey will be playing a short run of UK shows in the Spring of 2024. The run will also include European dates as part of the Impericon Festival.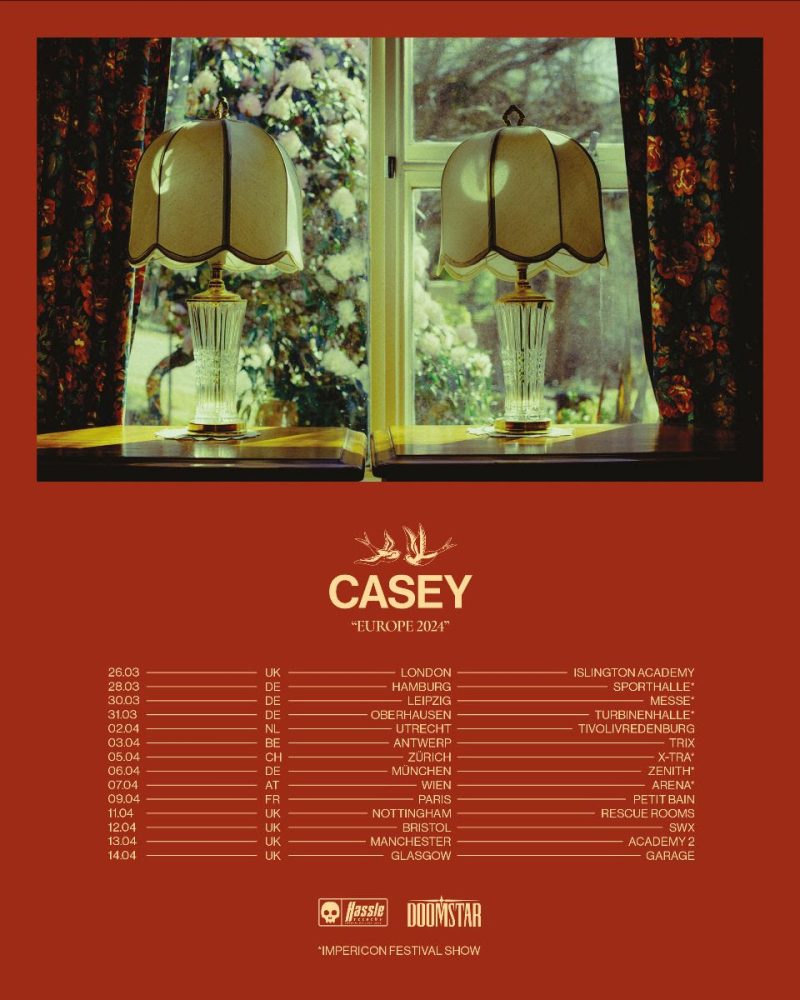 March
26th Islington Academy, London
April
11th Rescue Rooms, Nottingham
12th SWX, Bristol
13th Academy 2, Manchester
14th Garage, Glasgow
Lyrics: 'How to Disappear' by Casey
It's a slow ride, slipping out of focus
A steady decline, every day's the same
It aches until you tell yourself you can't feel it anymore
But it makes your shadow heavy as you drag it on the floor
And you're happy til you're not, then you're unsure if you ever were
"You're looking tired lately, is it getting hard to hold yourself together?"
The vespertine reluctance to stay awake and engage with anything you say
Are you keeping count of how often I dissociate when asked "is everything okay?"
When all I wanna know is how to disappear without leaving you to worry about me
It hurts to say, but I'm getting tired of running away from the same pain
Sorry if I've been avoiding the question
Sorry if I've been avoiding the question
What if you woke up to an empty bed and a note that said
"Is it disregard or discontent that lures the sparrow to its end?"
Sharp despair laid bare in the sunlight golden,
Fractured glass on an afternoon of grief unspoken.
Lately I haven't been myself at all
Sorry if I've been avoiding the question, I haven't been myself at all
Sorry if I've been avoiding the question, I haven't been myself at all
When all I wanna know is how to disappear without leaving you to worry about me
It hurts to say, but I'm getting tired of running away from the same pain
"Is everything okay?" (Is everything okay, everything okay?)
"Is everything okay?" (Is everything okay, everything okay?)
"Is everything okay?" (Is everything okay, everything okay?)
"Is everything okay?" (Is everything okay, everything okay?)
Sorry if I've been avoiding the question
Sorry if I've been avoiding the question
When all I wanna know is how to disappear
It's all I wanna know
When all I wanna know is how to disappear
It's all I wanna know