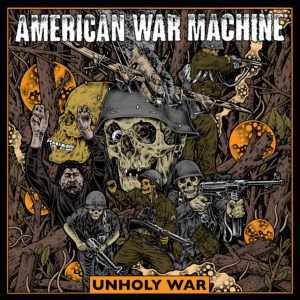 Bridge 9 Records has a reputation for being home to some of the best names in hardcore punk and American War Machine fit right in. Its members are drawn from a host of the scene's most influential bands, including Slapshot and Agnostic Front, all of whom pioneered and helped define hardcore in the 1980s. So it's no surprise that with their debut album 'Unholy War' you're getting a big solid slab of good old-fashioned hardcore.
With the 'Prey Drive' EP under their belt, the Boston-based super-group converged at the Colosseum in New Bedford to record the album, Trevor Vaughan handling production to make it sound as tight and bracing as you'd expect. The entire twenty-eight minute runtime is an absolute stampede of d-beat drums and Craig Silverman's guitar. You'd describe his playing as crossover-thrash, which he helped pioneer, and thrash he does, adding little flourishes to songs like 'Hammer Down' to keep things varied.
Whether it's the short 'Hurling Cataclysm', or the violent snarls of 'Bullet In The Head', vocally everything is presented as a hardcore yell. You do get a counterpoint to vary the structure, but it's pretty much straight down the line. No poetry, no cleans, no nonsense. Lyrically, the political overtones hit hard, and given the band name you can guess what they're angry about. Subtlety isn't their strength, raw power is.
Unrelenting and unsurprising from start to finish, AWM present a well-trodden sound you've heard before, probably from the members' original bands, but when the songs are this solid you can't complain. Highlights include the short and vicious 'Farther To Fall' and the unbeatable power of aggressive first single, 'Calcified Eye', rerecorded here, much like the three songs from their debut EP, to sound even meatier.
'Unholy War' doesn't overstay its welcome, it knows what it is. While they offer nothing fresh, American War Machine revel in their collective strength, offering uncompromising hardcore punk, which is exactly what you get.
3.5/5
'Unholy War' by American War Machine is released on 12th April on Bridge 9 Records.
American War Machine links: Facebook |  Bandcamp
Words by Ian Kenworthy (@WhisperingSand)