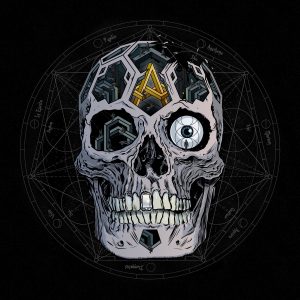 Dark atmosphere descends; luscious metalcore erupts from the stereo. It's 2004 and you're listening to Atreyu's 'The Curse', a brooding, vampire-inspired record, saved from despair by a clean-chorus/shouty-verse dynamic. Who could have foreseen their 2011 demise or their fitting return from the dead?
Disappointing comeback album 'Long Live' shambled along, zombie-like, a slave to the band's pre-hiatus sound. Aware of this, the Californian five-piece are out to stake their claim with 'In Our Wake'. Within moments you know for better or worse, they've created a monster.
John Feldman is playing Doctor Frankenstein. Again, the evil genius behind the band's 'Lead Sails Paper Anchor' handles production duties. His fingerprints are everywhere. All memories of the 'The Curse' are quickly buried so if you're yearning for those darker days, you're going to be horribly disappointed.  'In Our Wake' is bolted together from the corpses of metalcore, hard rock and Now: That's What I Call Music. You can almost hear the manic cackling. The thing is, it works. It's alive!
From the speedy metal stomp of 'Nothing Will Ever Change' to the slightly saggy 'Terrified', the band sound revitalised and crackling with energy. Everyone makes their mark. Alex Varkatzas spits and bubbles like a cauldron of ideas, Dan Jacobs and Travis Miguel exorcise the riffs of records past; it's a competition to see which band member can surpass Brandon Saller's ridiculously over-sized choruses.
The results are as wild as they are weird. Single 'The Time is Now' sounds like Britney Spears wearing a Slayer t-shirt but it's probably the best faux-metal pop song you've heard this year. 'Safety Pin' bites hard, 'Super Hero' revels in its overblown everything, while 'Blind, Deaf and Dumb' features amazing guitar work, rapping and a sprinkling of flashy production. The whole album is unhinged.
If you can forgive Atreyu for selling their soul on 'In Our Wake' you'll discover a gleeful, bold and engaging record that might just resurrect their career.
3.5/5
'In Our Wake' by Atreyu is released on 12th October on Spinefarm Records.
Atreyu links: Website |  Facebook | Twitter | Instagram
Words by Ian Kenworthy (@WhisperingSand)