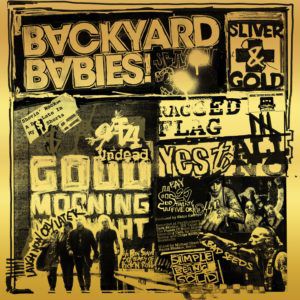 Backyard Babies burst onto the Swedish sleaze-rock scene back in 1989 with enough swagger and grit to make everyone sit up and pay attention. Celebrating thirty years in the business, they're returning with new record 'Silver & Gold' but sadly, this isn't a medal-winner, it doesn't even deserve the wooden spoon.
'Good Morning Midnight' kicks things off and sure, it sounds a bit dated, and while it's not particularly sleazy there's a decent riff and a few playful licks in there. 'Simple Being Sold' doesn't fare so well. Two songs in and you're beginning to wonder if they should be euthanised, after three you suspect they already have been. Brainless music is all well and good, but this is braindead, heartless and without an ounce of anything to hold your interest. Just listen to 'Shovin' Rocks' with its painfully dull refrain of "Rock N'Roll", the band sound bored chanting lyrics which would have been passé before the band was founded, never mind now. Yes, AC/DC may have peddled the same sound for forty-odd years, but at least they had the decency to sound like they were enjoying themselves.
Even fans will struggle to find something to like here, there isn't even an expletive-laden single for a few juvenile kicks. Much of the record is made up of pedestrian plodders, like 'Yes To All No', full of awkward rhymes, presented in a dull nasal monotone. Nicke Bord never sings with passion, and there's no indication he might mean any of the trite nonsense he spouts, it sounds like he's reading the instructions on a packet of teabags.
Most galling of all is when they throw in the single 'Undead 44', with a few solid riffs and licks it hammers home how much fun this could have been. Instead, rather than celebrating their strengths, Backyard Babies wallow in their weaknesses, making for a record that is impossible to like let alone recommend.
1/5
'Silver & Gold' by Backyard Babies is released on 1st March on Century Media Records.
Backyard Babies links: Website | Facebook | Twitter | Instagram
Words by Ian Kenworthy (@WhisperingSand)