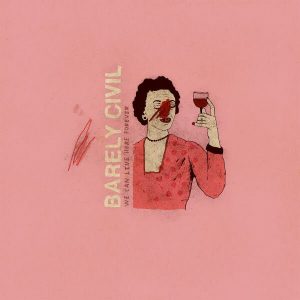 Wisconsin's Barely Civil have taken snippets from the backdrops of their lives and pieced it all together into a warm patchwork quilt of a record. Their debut album 'We Can Live Here Forever' is the product of six years together, since forming in high-school, and makes for a deeply reflective musing on life and love.
'WCLHF' is a richly contrasting record that weaves an interesting fabric as it picks at the seams of indie rock and folk, stitching together atmospheric soundscapes and fuzzy guitars with hypnotic mantra-like vocal lines. Opener, 'I've Been Getting Headaches Lately', is a prime example, with its downbeat acoustics and reflective refrain of "You won't take mine", meandering lazily to a searing backdrop.
The multiple textures of their mid-west emo-tinged indie give the songs an engaging maturity. 'Handwritten House', for instance, starts off delicately but evolves into an interesting blend of tenderly atmospheric brooding rock, while the quirky melody to 'Stark' avoids whimsicality with a dark fuzziness lending it a serious undercurrent. 'Stark' segues into 'Kent', which then weaves a downbeat tapestry of hurt, heartbreaking and beautiful in equal measure.
There is a lovely balance to the record though, songs like 'Eau Claire? Oh, Claire' offer a tender take on love and loss, whereas 'Re: Your Lungs' has a cool groove building into an angst-fueled lament. There are also a few tracks, like the subtly uplifting 'Lost//Found', the angular 'You With A Cape, Me With A Baseball Bat' and the superb 'Super 8/Marathon' with a more straightforward indie-rock tilt, which are no less engaging than the more textured numbers. However, it's the downbeat 'I Am Drowning' that steals the show as its folky acoustics build into a stunningly cathartic finale.
All in all, 'We Can Live Here Forever' is a deeply satisfying album that stylishly explores the subtleties of reflective indie-rock, with repeated listens reveal more and more depth to the record. Great work.
4.5/5
'We Can Live Here Forever' by Barely Civil is out now on Take This to Heart Records.
Barely Civil links: Facebook| Twitter|Bandcamp
Words by Edward Layland (@EdwardLayland)