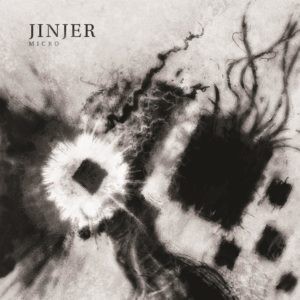 The Ukraine is probably not the first place you would name as a hotbed of progressive metal. Hence Jinjer had to work hard to get themselves noticed. After being snapped up by Napalm Records, their 2016 album 'King of Everything', brought them to the international stage. Last year saw the re-issue of their second album 'Cloud Atlas' and finally, they have concocted new music, the EP 'Micro'. 
'Ape' opens things up with a slow groove of djent guitars and your heart sinks, have they surrendered the soundscapes of prior releases? In a word, no. Two minutes in, there's a shift in tone, the vocals soar and all bets are off. It's stunning. Illustrating that yes, their awesome brand of kitchen-sink metal remains very much intact. Djent, speed metal, you name it Jinjer have it in their varied toolbox. In fact, it's surprising they've packed so much into the five songs.
While the music is sinuous as a snake, Tatiana Shmailyuk's vocals are the main focus. She excels at everything from death growls and screams to beautiful singing, particularly during the quiet break on 'Perennial'. Each song opens out like an orchid, revealing beauty and depth, even the short  'Micro', offers a close, atmospheric musing of guitars and percussion.
Elsewhere 'Dreadful Moments' has one of the most fitting song names you'll ever encounter. At times, Shmailyuk's singing doesn't gel with Roman Ibramkhalilov's guitar parts. Quickly, you realise it's completely intentional. Disharmony is part of the song's awkward swagger. In fact, every song is a careful blend of disparate parts and, while they shouldn't sit together, they do. 'Teacher,Teacher!' illustrates this best, opening with a huge thumping riff and almost-rap vocal, it gives way to a long, slow mid-section, allowing bassist Eugene Abdiukhanov chance to show off. Amazingly, it all works. Quite a feat, considering what they attempt. Thus, taken as a whole, 'Micro' is Jinjer consolidating their boundary-pushing sound. A strange and frequently thrilling EP.
3.5/5
'Micro' EP by Jinjer is released on 11th January by Napalm Records.
Jinjer links: Website | Facebook | Twitter
Words by Ian Kenworthy (@WhisperingSand)