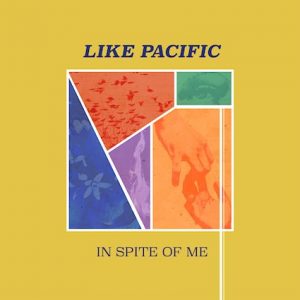 Like Pacific are back and ready to get rowdy. Following on from the band's lively debut record 'Distant Like You Asked', sophomore release 'In Spite Of Me' takes everything that worked for them previously and keeps the urgency flowing.
The record is very, very similar to 2016's'Distant Like You Asked', but that's not necessarily a bad thing. Where 'Distant…' did well, showcasing a harder-edged pop-punk group capable of writing hook-filled tracks muddled with a bit of spunk and grit, 'In Spite Of Me' almost feels like a direct extension of that album. Were you to shuffle the two records, you'd definitely hear the similarities. The instrumentation, vocal delivery (minus a bit more aggression) and the overall tone of the record sticks solely to what works for the group, and that's no crime. And with singles 'Sedatives', 'Had It Coming' and the title track firing on all cylinders with powerful, energetic choruses and melodies simply bound to get stuck in your head, then clearly they're on the right track. If it isn't broke, don't fix it, right?
On the lyrical side of things, Jordan Black keeps his writing raw, cathartic and open-hearted, as he allows his pissed-off side to vent through mistrust, being treated unfairly and moving on from those who get you down. Tracks like 'Admittance', 'The Spring' and 'Consider Me'get this across indefinitely, but really, lyrics depicting these themes make up the groundwork of the record's spine emotionally and conceptually.
Like Pacific might be just another pop-punk band, but they're pretty darn good. 'In Spite Of Me' keeps the group's sound consistent and at least matches the record's predecessor. In the future, they may decide to explore some dissimilar avenues, but for now, the group's sophomore album is exactly the type of record they should be releasing.
3.5/5
'In Spite Of Me' by Like Pacific is released on 27th July on Pure Noise Records.
Like Pacific links: Website | Facebook | Twitter | Instagram
Words by Dylan Tuck (@DylanJTuck)