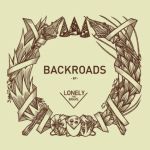 For the whole duration of this debut proper record from Cambridge quintet Lonely the Brave, this reviewer holds scepticism. The scepticism is down to the question: what can this band offer to the current trend of Brit rock that has been engulfing the nation's soundscape? For a further understanding, this reviewer would advise you to read further.
The band encompasses a powerful uplifting rock sound that is melodically entwined and soaring with grace. The first two tracks are a good example of this; the title track, 'Backroads', has a sincere rush to it, whilst 'Deserter' retains a softer mid-tempo pace. Third track and lead single 'Black Saucers' has a bite to it without sacrificing the usual graceful aplomb.
The thematic sense of hopeful strive is carried firmly by vocalist David Jakes is consistent and self-assured in his powerful delivery. His voice moulds comfortably with the calming and uplifting rock that his bandmates deliver.
If there any problems then they are the following. Final track 'Hope There's Someone' just feels like a dull abrupt ending to what is essentially a solid EP. Another tick is that there's potential for something more from this band, but it feels yet to be unleashed. Perhaps with a bit more time that potential and unique identity could be petted, then raise the band into something more wondrous and spectacular.
For a first official collection of tracks, the 'Backroads' EP displays three out of four powerful rock tracks that bring out reactions that are of the nice, warm and uplifting kind. To sum up it's a good taster for what will lead to the band's debut album, and it shows potential that is yet to be fully unlocked. Although not to this reviewer's tastes, it is a solid record, one that is sure to entice the Radio One loving crowd.
3.5/5
'Backroads' EP by Lonely the Brave is out now on Hassle Records.
Lonely the Brave links: Website|Facebook|Twitter
Words by Aaron Lohan (@ooran_loohan)