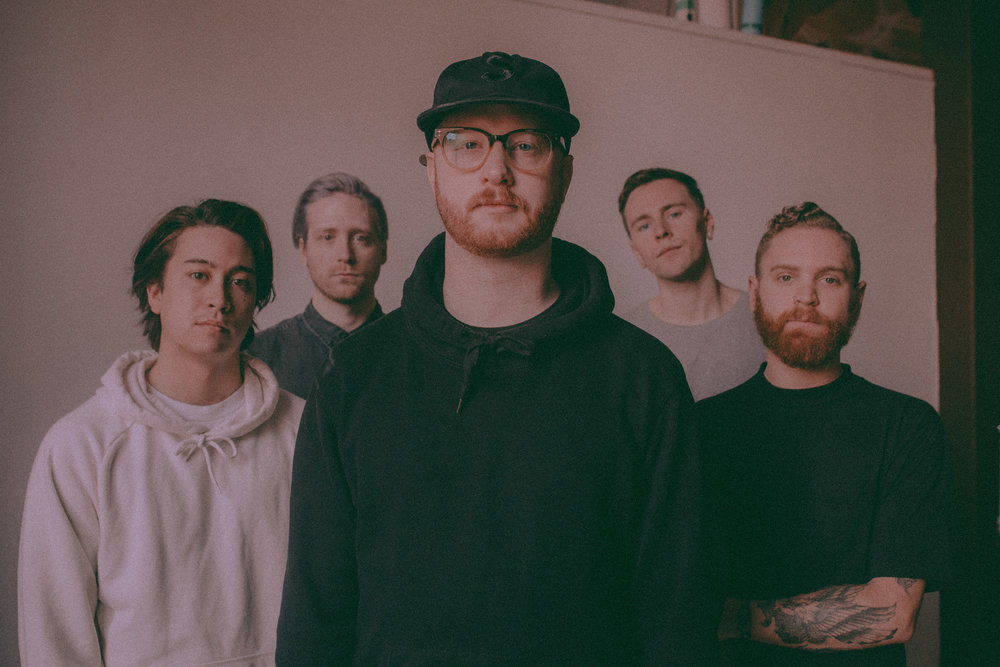 "I feel like 'In Spite Of Me' is a really accurate representation of us through music."
Keeping up the energy of a pumped debut album is not always as easy as it seems. The "second album syndrome" is a common trope in the music world, but it isn't one that's effecting Like Pacific. The bands follow up record 'In Spite Of Me' to their 2016 debut 'Distant Like You Asked', sees them embrace a more angst-ridden sound than its predecessor, with the band and frontman Jordan Black, in particular, cutting frustrated figures across its ten tracks.
"The angrier vibe on the record comes directly from Jordan's life" guitarist Greg Hall tells us. "(It's) him accepting the challenges he's been facing over the years and not feeling so sad about it all."
Themes of moving on and shedding anger and resentment are dominant across the entirety of 'In Spite Of Me', and contribute an extra added bit of spite. The lyrical content on the record along with its spiteful delivery offers a way for frontman Black to cathartically share his hurt and bitterness at being let down by a significant other. The line "I know your perfect smile will never show its crooked teeth"sums up a large majority of his negative feelings on the record, as Black proves himself as unafraid of exposing his ill feelings to tell it how it is. At other times, lyrics are more questioning than damning, as 'Had It Coming' shows Black wanting answers and closure on the line "Whatever happened to graceful, judgement, patience / How did I do you wrong?". 
"I feel like acceptance, closure and speaking your mind are all common subjects", Hall explains. "The lyrical process for Jordan is always cathartic in that sense. Writing those feelings and emotions down and developing them into thoughts can be an extremely helpful outlet." 
When it came to writing the album, Hall explains that the five-piece took a different, more considered approach than with their first effort 'Distant Like You Asked'. "We enjoyed the experience of writing 'In Spite Of Me' more than any other process. We got to do it with the people we wanted and in the time frame we wanted. 'Distant Like You Asked' was definitely a little more rushed overall." 
The recording process also saw the band embrace fresh ideas, while they also had a glorious opportunity to work alongside producer and Four Year Strong guitarist Alan Day and lay down their tracks in a remote, woodland studio.
"The process, in general, was amazing. We brought all our ideas to Alan just outside of Boston last June before we actually tracked with Derek Hoffman back in a Toronto through summer '17. We spent two weeks isolated in the studio and wrote day in and day out. It was a very inspiring experience, the four of us without cell service. Our sole purpose was to write music while we were out there."  
Hall openly admits that the experience of working with Day brought a new light to the record too. "Alan is an incredible musician and human being, he had a huge impact on all the songs we brought to him. We got to strip everything down and build it back up, it was great." 
Day wasn't the only influence on the record either. "We were listening to a lot of Don Broco, The 1975 and The Maine. All the music we listen to I'm sure has an influence on our sound, however, I feel like 'In Spite Of Me' is just a really accurate representation of us through music." 
With their pissed off new album setting the bar high for the band's future prospects, Hall believes the 'sky is the limit', and he's right. The aggression on 'In Spite Of Me' is suited to both their musicality and Black's impressive, bruising vocals and showcase that the only way is up for the Canadian outfit.
'In Spite Of Me' by Like Pacific is out now on Pure Noise Records.
Like Pacific links: Website | Facebook | Twitter | Instagram
Words by Dylan Tuck (@DylanJTuck)