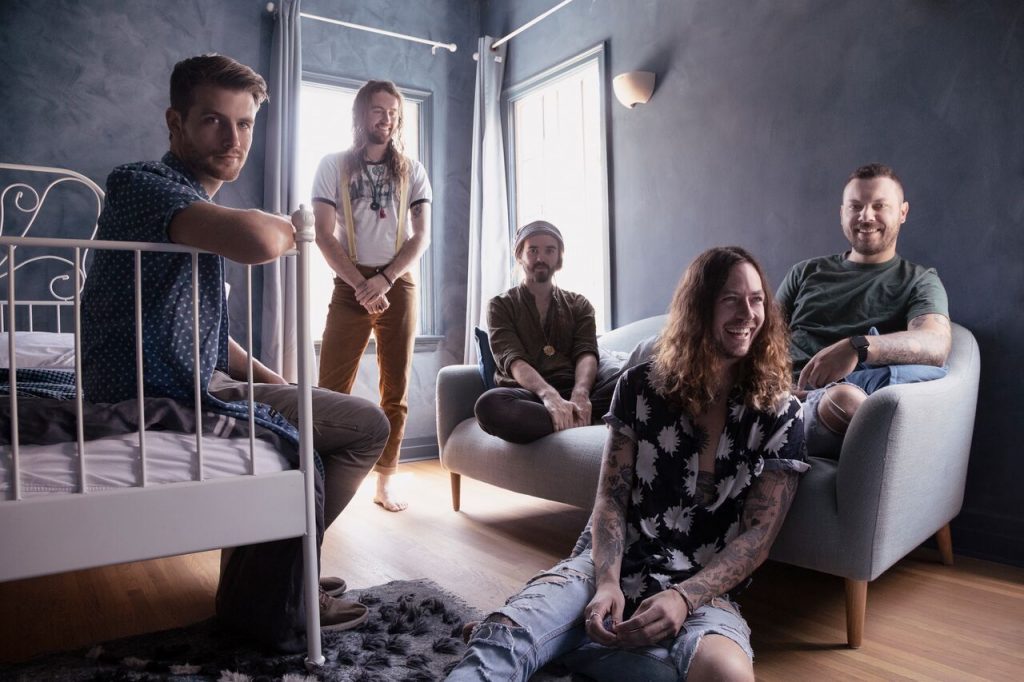 "It's bigger, it's cheekier, it's dirtier and more fun to play" 
2018 marks a milestone for Australian outfit Hands Like Houses. With this year being a decade since their formation, the release of their fourth album '-Anon.' has welcomed a rejuvenated sound, where the band have seemingly embarked on a new chapter.
With 'Tilt' sticking to the native Hands Like Houses style, the initial introduction to '-Anon.' took an immediate, noticeable shift in direction, opening up their post-hardcore playing field to delve into a wider landscape with arena-worthy anthems. "It's a ride and we want people to embrace it as its own beast", frontman Trenton Woodley begins as he discusses the LP.
"It took a lot of writing and a lot of b-sides to land on something that felt like it embraced all our influences and priorities at this particular moment in time – and the song 'Sick' was the catalyst that tipped the musical balance towards what the album became." Since its release, plays of the album comes with a sense of maturity, boasting progression as they have solidified a noise that embraces pop traits, yet retains the adrenaline-charged tone of their previous work. Or as Trenton describes it; "it's bigger, it's cheekier, it's dirtier and more fun to play than anything else we've written."
Hands Like Houses have a more than commendable following back in their home territory, where their presence internationally is one that has been steadily growing. With '-Anon.' displaying a heightened element of accessibility, talk turns to why their writing process has altered. Battling with tour schedules amidst producing previous works, Woodley admits how this inevitable element of band life shaped the outfit, "Even though we are incredibly proud of the results, it (touring) took a serious emotional and mental toll on us, so this time we knew we needed to relax and take our time to create it from a place of health and happiness, instead of stress and necessity."
With this open dialogue about the relentless nature of being on the road, the reasoning to the somewhat lighter sound becomes clearer; "It's still 'us' because we are our own voice and we will always interpret music through our own collective perspective, but getting away from such strict definitions of who we are and who we aren't was the most liberating feeling," explains Woodley. "It contributes to the feeling of cool, calm confidence through the record."
Having gained an element of new-found confidence, Woodley reflects on other learning curves the band have faced on an industry level, "I think you have to learn to see people at their best and worst at the same time," he details. "There's a lot of unreliable people, a lot of honest people, a lot of believers and a lot of players in this industry."
"We needed to relax and take our time to create it from a place of health and happiness, instead of stress and necessity"
With this in mind, Hands Like Houses have learnt the importance of surrounding themselves with a team that value and believe in taking risks as much as they do, "You form so many valuable and important friendships along the way, and so it's important that you find a team that you can trust implicitly, but who also trust you to know when to look over their shoulder and when to leave them to work their magic."
With '-Anon.' taking Hands Like Houses on a new venture, the future of the Aussie outfit is looking ever-more exciting as they expand into fresh ground.
Hands Like Houses UK Tour Dates with Normandie and Jule Vera:

October
19th Cathouse, Glasgow
20th The Asylum, Birmingham
21st Key Club, Leeds
23rd The Fleece, Bristol
24th Manchester Academy 3, Manchester
25th Electric Ballroom, London
'-Anon.' by Hands Like Houses is out now on Hopeless Records.
Hands Like Houses links: Website | Facebook| Twitter | Instagram
Words by Ffion Riordan-Jones (@FfionAbigail_)