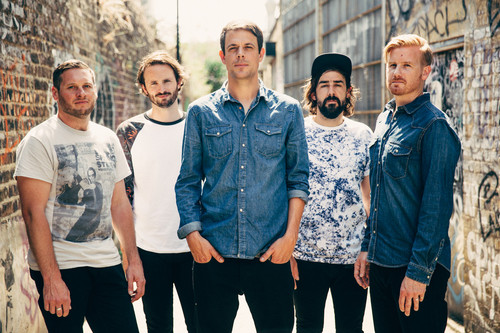 Packing stadium sized rock anthems with an incredibly striking emotional punch, and graced with one of the most staggeringly unique vocal talents to have graced the UK Rock scene in an awfully long time, Cambridge's Lonely The Brave have become one of the single most talked about new bands to emerge in recent years.
With their debut album 'The Day's War' finally released this week, Already Heard caught up with lead guitarist Mark Trotter and Bassist Andrew Bushen shortly after the band's stellar set on the Radio One/NME Stage at last weekend's Leeds Festival.
AH: It seemed like the set went really well and drew a decent crowd for so early on the festival's final day. How are you feeling?
Mark: We were really lucky. We were saying earlier, Sunday lunchtime we'd probably still be in bed ourselves. We were just grateful that people got up to see our little band from Cambridge. It's pretty amazing.
Andrew: I was absolutely blown away by the response; it was a fantastic crowd. I'm glad everyone was still feeling up to having a turn out on Sunday morning.
AH: It's been a busy festival season for the band already, has it been the high point of what has already been a remarkable year for Lonely The Brave?
Mark: It's been bonkers. That's the only way to describe it. We've been pretty much everywhere that would have us. That's the honest way to put it.
Andrew: It's been a busy year all round but the summer has been crazy. We've been to lots of places in Europe and have done most of the UK festivals. We've had an amazing time.
AH: While you've been playing all the other festivals, have Reading and Leeds been the big ones on the horizon that you were looking forward to?
Andrew: I've been to lots of Reading Festivals as it's near where I live. They are legendary events Reading and Leeds and it's always an absolute honour to play.
Mark: We'd be here as punters even if we weren't playing, so being able to be here and be on the other side of the fence is pretty special. We feel very lucky.
AH: Has it been hard to believe how quickly things have grown for Lonely The Brave over the last year or so?
Mark: This year has been mad, and we have to keep reminding ourselves that all of it has been off of the back of one EP. We were worried about doing this festival season because the album's not out. We thought with the delays that there would be nobody here, I mean why would there be people coming to watch us. Fortunately there have been.
Andrew: Originally the album was going to be out at the start of June and we would have had that to push and we would have something more out there. Like Mark said, on the back of just a few singles things have been amazing.
AH: It's finally getting close to the release of the album after all of the delays, are you relieved it's almost out?
Mark: We just want it out, that's the only way to describe it. We've had these songs written for a long time. To have it finally be just a week away is pretty amazing for us.
Andrew: It's been delayed by three months from the original release date in June, but that's flown by with all of the festivals and other stuff that we've been doing. It hasn't been as bad as we thought it might be. With a week to go we are definitely buzzing now.
Mark: We feel lucky that everyone has stuck by us and we are so grateful. It could have been really bad. It was a really hard decision for us to put the record back. It was a decision that was given to us and we still feel it was the right one to have taken. We just want to say thank you to everyone that has been so supportive, without them these shows could have been horrible.
Andrew: We know how hard it is when you're waiting for something to come out. When it's your own record you get impatient to have it out there as that's how you present yourself to people.
AH: Did you look at it as having the chance to build up momentum for the band through festival season before the record came out?
Mark: Absolutely.
Andrew: It was worth the delay for the reasons that we were given. It's been good that we've still had enough stuff out there to keep people interested.
Mark: I personally think there would have been less people at these shows if we had released the record early as we wouldn't have got to as many people as we have. The support we've had from Radio One has been incredible. Without that perhaps this summer wouldn't have been the way it has been.
AH: Is this the first time in your careers that you have experienced having delays before you could put out new music?
Mark: We've all been in other bands, but this is the first band that have been in that have been doing things like this. It was a big, big decision. We've been sitting on this record as people for a long time and we just want people to hear it.
AH: How long has it been since you actually recorded the album?
Mark: About 18 months. These are songs that we wrote a long time ago. We've been a band for four years or so and, well, some of these songs are knocking on a bit.
Andrew: It's a culmination of everything that we've been working towards since we formed, but at the time we recorded it we didn't have a record deal. So at the time we didn't even know if it was going to get released at all by a record label. We might have had to do it ourselves. So the delays have all been part of the bigger picture.
AH: Have you limited the amount of the new songs you played live with the album not having been released?
Mark: We just play what we want to play anyway. That might sound funny, but there aren't that many of our songs that people know anyway. There are maybe two or three that people know. What has been amazing is that when we've played the songs that haven't been released, there are people in the crowds that have seemed to know them. Which either means they've been to loads of shows and liked them which is amazing, or they've hunted them down on YouTube or wherever and learnt them. To us that's incredible. How lucky are we?
Andrew: Being able to play your older songs in a new place makes them seem fresh as well. You never get tired of playing a song in front of people who appreciate it.
AH: Where did the title 'The Day's War' come from and what does it mean to you?
Mark: Really it's a simple thing. Everyone has struggles, everyone. It doesn't matter who you are, you have things that you have to deal with every day. We're no different. The record is songs written about those situations that we've been through as individuals and as a band. Those things are the day's war.
Andrew: It summed up a lot of the things that we were going through when we were writing the songs. It's that day to day thing of getting through and expressing yourself even if at the time nobody wants to listen. Being in a band can be hard work, and obviously it's paying off now so it's been worthwhile.
AH: You've previewed some of the songs from the album on YouTube, how has the response been?
Mark: Great. We're blown away that people like our songs and can sing them back to us. It's an amazing feeling, especially with the new stuff. Things like the video for 'Back Roads' has caused a stir in some places and that is a special thing. We've always said that we want people to experience the songs however they want to experience them. Some of my favourite songs, I don't know what they were originally about and I don't want to, I just know what they mean to me. If people can feel that way about our songs then we see it as job done really. We've been getting some amazing messages literally from around the globe about how they feel about the songs.
Andrew: The responses on social networks have been incredible.
Mark: We are honoured that they mean that much to people.
AH: On quite a few occasions you have already been compared to Pearl Jam. How mad or humbling is it to be compared to such a legendary band?
Andrew: It's definitely mad, and it's definitely, definitely humbling. Where can you start with a band like Pearl Jam? We obviously grew up listening to them and I really don't know what to say about it.
Mark: I think if you think about melodic rock bands who really mean what they are doing and have an amazing singer, the band like that that you would immediately think of is Pearl Jam. We're all fans, we couldn't say that we're not, but it's not like we're deliberately trying to do the same sort of thing that they're doing.
Andrew: They've had a twenty plus year career of doing everything their own way, and you have to give a lot of respect to someone who can do that regardless of what line of life its in.
Mark: It's that voice. If only you could write lyrics like that and have that voice. Dave writes lyrics that seem to mean things to a lot of people too by the looks of it and he has that kind of voice. I've said it many times, but I remember when I first heard him sing a high note on one of our tracks 'The Blue, The Green', and he has been a mate of mine for a long time, but that exact moment is burned into my memory because at that time I said to myself all I want to do with the rest of my life is stand beside that man while he sings that note. Because he just ripped me clean in half. That's the sort of thing that Eddie Vedder probably means to a lot of people as well. So we'll definitely take that comparison as a good thing.
Andrew: It's a massive compliment.
'The Day's War' by Lonely The Brave is out now on Hassle Records/Columbia Records.
Lonely The Brave links: Website|Facebook|Twitter
Words by Dane Wright (@MrDaneWright)