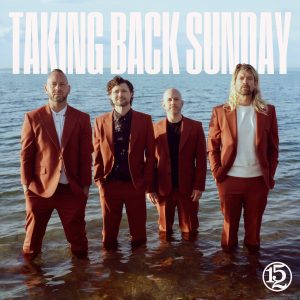 Longtime Taking Back Sunday fans will know how significant the number 152 is to the band's history. For those who don't, it's an exit road in Adam Lazzara's hometown of North Carolina between Highpoint, Chapel Hill, and Raleigh. The number has appeared in some form or another on every Taking Back Sunday dating back to the 2002 scene classic, 'Tell All Your Friends'. However, unlike those from the era who comfortably drive down the road of nostalgia, TBS has constantly been taking diversions, evolving from their emotional youth.
With their eighth album taking on the title of '152', you get the impression that the now-quartet (founding guitarist Eddie Reyes departed in 2018) is looking to make some sort of defining representation of TBS. The drawn-out writing process tilts to this perspective, with the aim to deliver something exceptional.
On first listen, '152' doesn't quite hit those hefty aspirations, yet with each playthrough a sentimental thread pulls these 10 tracks together, making them increasingly appreciative. Sure, it's a breezy listen which ends a bit too soon, and the track order is somewhat disjointed, yet '152' is a perfectly fine TBS record. Nothing more. Nothing less.
'Amphetamine Smiles' opens proceedings with its airy acoustic guitar, stirring solo, and sweeping strings. Although it lays the lyrical earnest foundation that follows, it doesn't quite provide the urgency an album's first track should considerably have. Thankfully, recent singles 'S'old' and 'The One' make up for it.
The former offers a rugged rhythm section, courtesy of Shaun Cooper (bass) and Mark O'Connell (drums). While Lazzara's vocals have a familiar weathered warmth as he offers wise words of "You're gonna get so old either way". As for the latter, 'The One' exemplifies (modern) TBS at their best. With its low end, pounding hook, John Nolan's distinctive backing vocals, and a radiantly positive chorus, it wouldn't sound out of place on "mainstream" radio.
'Keep Going' is equally upbeat and atmospheric with added "woah's", contrasting the toxic relationship Lazzara sings of; "Long since you meant everything to me, Nobody knows the trouble I've seen, Nobody knows the trouble you've been ." 'I Am The Only One Who Knows You' simmers in its balladic skin while comfortably embracing slight pop production. Likewise, 'Quit Trying' blends a repetitive chant of "oh me, oh my" with a bustling chorus.
Lyrically, Lazzara and company provide an honest and introspective theme. 'New Music Friday' is riddled with guilt ("I can't be somebody else") and the late album highlight, 'Juice 2 Me', captures the relief of getting rid of that mentally negative anchor. Whereas 'Lightbringer' takes the form of a slow-burning, punchy number as it wallows in atmospherics, allowing Lazzara's introspective words to take centre stage. As it comfortably builds to a decent crescendo, you realise it's one of the most compelling offerings on here.
It's unlikely '152' will be held in such high esteem as the trio of albums that made Taking Back Sunday leaders of the scene. Nevertheless, it neatly captures a (loosely) maturing band who have never been afraid to lean too heavily on their former glories. '152' sees a band who musically sound rich, organically embracing ambience, and collectively finding comfort in their natural growth.
3/5
'152' by Taking Back Sunday is released on 27th October 2023 on Fantasy Records.
Find Taking Back Sunday on Facebook, X, Instagram, TikTok, Spotify, and their website.